Joe Biden on Abortion: Life Begins at Conception, But I Won't Say That to Others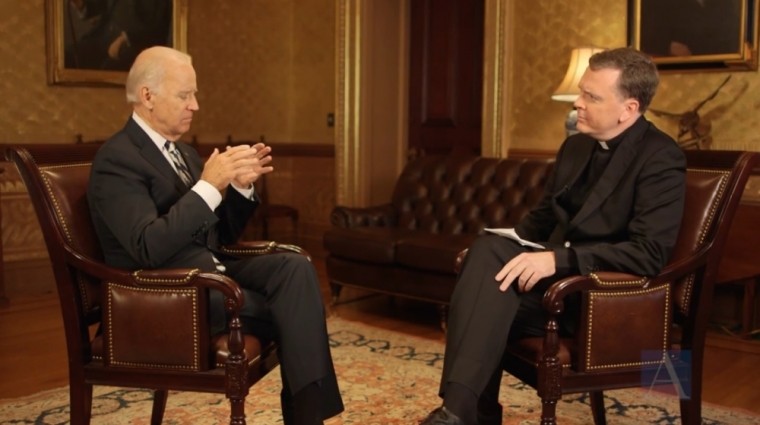 Vice President Joe Biden, a Roman Catholic, said that while he accepts the Church's position that life begins at conception, he will not share his position with others who do not have the same beliefs.
"I'm prepared to accept that at the moment of conception there's human life and being, but I'm not prepared to say that to other God­-fearing, non-­God­ fearing people that have a different view," Biden told Father Matt Malone, S.J., editor in chief of America magazine, in an interview published on Monday.
Biden admitted that it has been hard to reconcile the Democratic Party's support for abortion rights with Catholic doctrine, but explained that he cannot impose a "precise view" stemming from his own faith on others.
The Vice President, who is yet to announce whether he will seek the Democratic nomination for president in 2016, revealed that he had a discussion on the topic with Pope Benedict XVI a few months before the latter's retirement in 2013. Biden said that he came away "enlightened" by the conversation, and revealed that Benedict had not been "judgmental."
Biden further insisted that there "absolutely" is room for pro-life people within the Democratic Party, and said that that has always been his view.
He added that his political career and his Catholic faith come together in the respect for human life.
"I don't think there's any fundamental disagreement that, you know, that we hold these truths self-evident, that all men are created equal, you can say it another way, the pope says it, every human being's entitled to be treated with dignity. So I find it totally consistent, and, by the way, it's not just Catholicism, it's almost all confessional faiths have the same basic principles," Biden said.
The Vice President also expressed his excitement for Pope Francis' upcoming visit to the United States, where the pontiff is scheduled to speak before Congress.
"I mean, I'm excited quite frankly, as a practicing Catholic, I am really excited by the whole world is getting to see what are the basic essential elements of what constitutes Catholicism," Biden said, calling Francis "the embodiment of the Catholic social doctrine I was raised with."
Biden has opened up about his Catholic faith on a number of occasions, and earlier in September told Stephen Colbert on "The Late Show" that it has helped him deal with some of the biggest tragedies in life.
Biden told Colbert that his faith was especially important in coping with the loss of his son, Beau, to brain cancer earlier this year. He said that he takes an "enormous sense of solace" from Catholic rituals, such as counting his rosary beads and going to Mass.