Joel Osteen Ministries Leveraging Social Media to Move the Gospel Forward
Megachurch's Media Director Explains How Online Networking Helps 'Plant Seeds of Hope'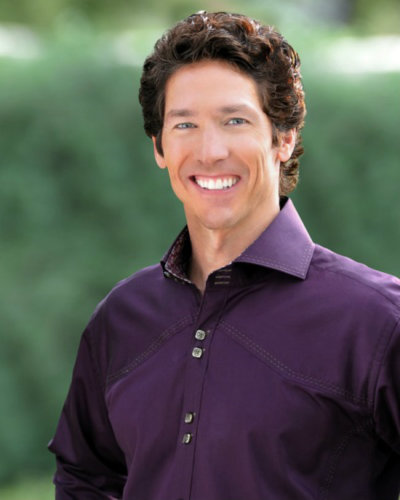 Joel Osteen leads America's largest church and is one of the most popular megachurch preachers and Christian authors in recent times. Pivotal to his ministry, based in Texas, is its social media outreach that attracts millions of followers across several networks.
"As is the goal of any ministry, Joel Osteen Ministries seeks to reach as large an audience as possible. The tactics differ between the social media platforms, but the overall goal is the same as Pastor Joel's goal which is to preach the Gospel of Jesus Christ and to plant seeds of hope around the world," explained Andrea Davis, sr. director of Media Relations/Social Media for Lakewood Church/Joel Osteen Ministries.
"Social networking is an effective means for reaching large numbers of people and for allowing those people to share Pastor Joel's important message with even more people within their respective networks," she added, calling social media "a great witnessing tool."
Starcount, a data aggregator that tracks worldwide activity across social media platforms such as Twitter, Facebook and YouTube, consistently ranks Joel Osteen Ministries in the top three of its the daily Religious Figure Chart. Osteen's ministry is often sandwiched between fellow Christian organization Joyce Meyer Ministries and Amr Mohamed Helmi Khaled, an Egyptian Muslim activist and televangelist who manages to outrank both ministries on Starcount's all-time Religious Figure Chart.
Adding thousands of new supporters monthly to its 1.3 million Twitter followers and 2.8 million Facebook fans, one might be surprised to learn that Joel Oseen Ministries' social media team consists of only two people, although they do manage with outside help.
"We have social media platforms for both Joel and Victoria Osteen which are maintained through the Media Relations Department," Davis told The Christian Post, explaining that she oversees her department with the help of one staff person and an outside communications firm.
"In addition, Lakewood Church and many of its individual ministries (such as the Men's and Women's Ministries, Youth Ministry, etc.) communicate via social media which encompasses more than a dozen respective social media platforms," she added.
Davis says Pastor Osteen often gets involved and "is very hands-on. He reviews each post and reads the responses."
"He likes to keep up with what people are saying on social media," the media relations director added.
Osteen is known for focusing his sermons, books and everyday messages on personal empowerment and success. The description on Joel Osteen Ministries' Twitter profile says it provides "Daily inspiration to help you live the life of victory and abundance that God intended for you," and the ministry's Facebook page declares likewise. But its upbeat messages aren't a hit with everyone.
The Texas megachurch preacher is often criticized by some in the Christian community for teaching a Gospel message void of sin and suffering.
When asked last year by The Christian Post for his response to accusations that his teaching of the Gospel is purely health and wealth, or prosperity, Osteen shared his definition of "prosperity" but also emphasized his belief that the Bible teaches that God rewards obedience.
"The way I define it is that I believe God wants you to prosper in your health, in your family, in your relationships, in your business, and in your career. So I do … if that is the prosperity Gospel, then I do believe that," he said.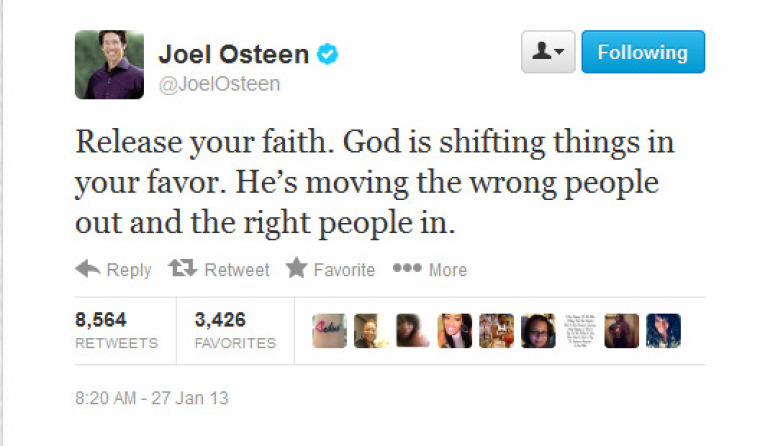 Those very messages are what seem to resonate with the multitudes that consistently tune into Osteen's Internet and television broadcasts, purchase his many books and follow him on Facebook and Twitter.
Among Joel Osteen Ministries' Twitter fan base are pop stars, Hollywood A-listers, politicians, athletes and fellow Christian ministers who retweet the ministry's many bite-sized tweets, such as:
"Don't allow negative people to steal your joy. When you lose your joy, you lose your strength" – retweeted more than 8,000 times with responses like "true," "yes," and "love it."
"God is fighting your battles, arranging things in your favor, making a way even when you don't see a way" – retweeted by more than 7,000 Twitter users.
Social media analytics service Track Social revealed last year that among the top 10 most daily re-tweeted brands on Twitter, Osteen's ministry ranked third, managing to outshine brands like the Miami Heat and CNN. Joyce Meyer Ministries emerged as the most re-tweeted, or interactive brand, on Twitter.
Similar messages on Facebook, such as "Don't go around thinking about who hurt you. If God is for you, who can be against you," are shared even more frequently, with this specific message shared by nearly 30,000 Facebook users.
The frequent interaction with Joel Osteen Ministries' social media presence "tells us the messages are resonating with people, and more importantly being shared with others," according to Davis.
In addition to the supporters of Joel Osteen Ministries are dozens of detractors who have launched fake social media accounts parodying Osteen's feel-good messages, which is a common occurrence on social networks. While organizations like Twitter employ a verification service to check the legitimacy of certain identities, essentially anyone can log on and pretend to be someone else.
Another drawback for organizations attempting to harness the social media platform is often the wasted time and resources invested into platforms that are here one day and gone the next, which Davis admits is a challenge. But despite the hurdles, the media relations director says it is exciting the way social media can be leveraged to move the Good News forward.
"There are challenges at times with the length of characters, the open environment, and technology flaws," Davis admitted to CP. "But we are living in an exciting time where the Gospel can be shared around the world in a split second. The benefits far outweigh the challenges."
Osteen, who takes his "America's Night of Hope" event to various U.S. cities throughout the year, continues to look for new ways to implement social media. With the "America's Night of Hope" stop in Miami scheduled for April 20, Davis said the ministry plans to use social networks to engage the 150,000 people who are expected to watch online and log into chat rooms to interact during the evangelism and worship event.