Joel Osteen Opens Lakewood Church to Jewish Congregation After Hurricane Damages Synagogue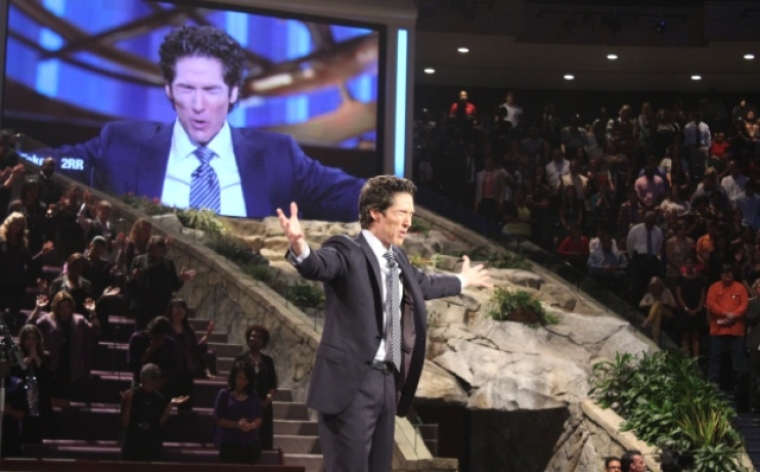 Joel Osteen's Lakewood Church, one of the largest nondenominational churches in America, has offered the use of its church building to a Conservative Jewish congregation whose synagogue was severely damaged by Hurricane Harvey and is in need of a place to worship during the upcoming Jewish High Holy Days.
Leaders at Congregation Beth Yeshurun, a congregations of about 2,400 families, have been scrambling to find a place to hold their worship services for the Jewish holidays this month after severe flooding from last month's hurricane rendered the sanctuary and other areas of the building unusable for the foreseeable future.
Denis Braham, a CBY advisory board member, told The Christian Post that the synagogue leaders initially looked elsewhere for another venue that could hold their worship services.
But with no luck finding a venue and with holidays like Rosh Hashanah (Sept. 22-23) and Yom Kippur (Sept. 30) fast approaching, the staff at Lakewood Church offered the use of their building earlier this month. Lakewood is housed inside of the former NBA arena known as the Compaq Center and has a sanctuary that can hold up to 16,000 people.
"Lakewood Church has an incredible venue and they were more than forthcoming in offering their church for the synagogue services," Braham told CP. "Their generous offer was greatly appreciated by the synagogue clergy and the synagogue leadership. It was received as an astounding act of generosity and interfaith spiritual collaboration."
Braham, who has served for years as a legal adviser for the Osteens and Lakewood Church, was the one who initially spoke to Lakewood leadership about the situation facing his congregation.
"Victoria and I are pleased that we're able to offer the use of Lakewood Church to our friends at Beth Yeshurun so that they can celebrate their High Holy Days," Osteen said in a statement shared with CP on Tuesday. "It is affirmation of our longstanding friendship that they felt comfortable enough to ask us for assistance. That means a lot to us."
According to Braham, there is no doubt that this year's CBY worship services will be a different experience but assured that Lakewood leadership "wanted to be sure that the Synagogue's experience there would be entirely a Jewish spiritual experience. "
"They truly want us to feel as if it is our home for the Jewish High Holy Days and they have made every effort to create a very comfortable environment for the synagogue to hold its services," Braham explained.
"I think that the congregation and its members are overwhelmed with the selfless act of generosity and welcome. It is such an emotional time for the congregation. Many individual families, including even clergy, have lost their homes in the flood so it is a difficult experience at a time when the Jewish community is normally focused on spiritual introspection," he continued. "The fact that Lakewood Church reached out without hesitation to offer their church facility at such a meaningful time in the Jewish calendar was amazing."
The congregation's members were notified of the venue change via email sent by Rabbi David Rosen and the congregation's president, Arlene Staller.
"Lakewood, the Joel and Victoria Osteen Ministries and staff, in turn, have been extraordinarily gracious in allowing us the full use of their spacious facilities," the email explains. "They are working very collaboratively with us to ensure that their facilities provide us with a completely Jewish High Holy Days experience."
Braham stressed that the show of solidarity by Lakewood shows that the Christian church is "dedicated to the entire Community and to people of all faiths."
"They are unselfish in all respects and dedicated to anyone who has a need no matter their religion or their background," Braham stated.
Lakewood and Osteen received much criticism and were blasted with false accusations over the church's initial reaction to Hurricane Harvey. But Lakewood has played a vital role in helping victims of the hurricane these past few weeks.
After the flooding subsided around the church and the main shelter in the city became overcrowded, Lakewood sheltered over 400 displaced victims of the hurricane and became a donation and distribution center for much needed supplies that were sent to other shelters throughout the city.
The church also benefited from a $250,000 donation from movie director Tyler Perry, who donated over $1 million to Harvey relief efforts and also defended Lakewood and the Osteens from critics who slam the church.
"There were some safety concerns, and I spoke to them on the phone, and it all made perfect sense to me," Perry stated. "So before you just run and judge someone real quick, you need to know the whole circumstances."