John Gray, Praised for 'Scriptural Insights' by Joel Osteen, to Pastor Redemption Church Greenville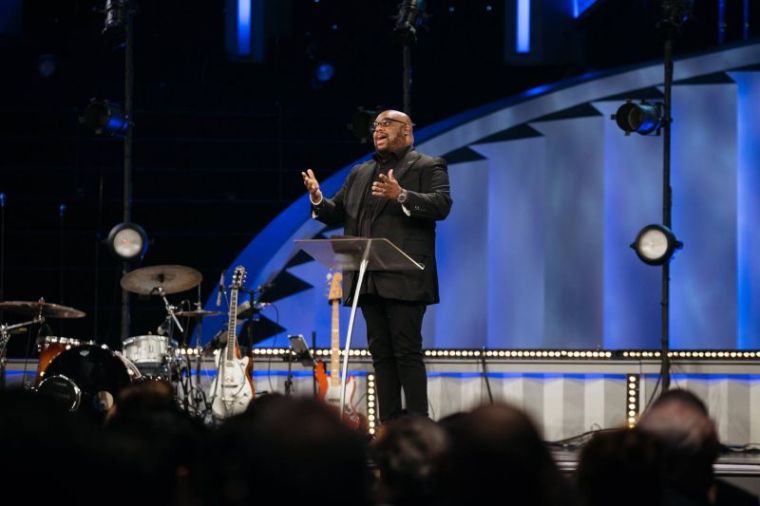 Lakewood Church Senior Pastor Joel Osteen has praised the influence and scriptural insight of Associate Pastor John Gray, who was recently named as new senior pastor at Redemption Church in Greenville, South Carolina.
"John Gray is becoming one of the most respected and influential voices of this generation. His scriptural insights are brilliant and his charismatic speaking style is like no one else," Osteen said in a statement to The Christian Post Tuesday night.
"I can promise you that Greenville, South Carolina will never be the same once John Gray rolls into town," the megachurch leader added.
Lakewood, which told CP that there are no plans to replace Gray, as he will "continue preaching on various Wednesday nights at Lakewood," added that "Pastor Lisa Osteen Comes, Dr. Paul Osteen, Nick Nilson and others have always rotated on leading the Wednesday night services at Lakewood and they will continue to do that."
They also explained that Gray and his wife, Aventer, will assume responsibilities as Pastor and First Lady of Redemption Church in the Spring of 2018.
"John and Aventer will always be a treasured part of the Lakewood family and we are pleased that John will continue to share his powerful messages with the members of Lakewood Church during various Wednesday night services throughout the coming years," a statement by the church added.
"John and Aventer have and will continue to be a blessing to Lakewood Church and the city of Houston, and we know that they will be a blessing to Redemption Church and the people of Greenville as well."
Ron Carpenter Jr., pastor of the 21,000 member multi-campus Redemption Church, announced on Sunday that he will be stepping down as pastor of the Greenville campus.
Carpenter clarified that he plans to move to San Jose, California, in 2018 where he will take over the 14,000-member Jubilee Christian Center, which will see it rebranded as part of the Redemption Church group.
The preacher added that he will be shutting down three of the current campuses under the Redemption Church branch, which he said will allow him to do ministry better.
Gray expressed his joy when announcing the move Monday on Instagram.
"To Pastor Ron and Hope Carpenter and the entire Redemption family, we say thank you for seeing the future in us and we are eager to begin this new journey. And to Pastors Joel and Victoria Osteen and our entire Lakewood Church family, we say we love you and are eternally grateful for all we've been able to watch God do over these last five years," he wrote.
Gray spoke with media tycoon Oprah Winfrey back in April about being the first black pastor at Lakewood, which is the largest church in America.
"To be the first African-American to literally be on staff and just to weekly speak into the life of the church is a high honor," he told Oprah at the time.
In May he explained that he has kept his boisterous preaching style at Lakewood despite Osteen's more soothing and calm approach.
"This is who I've been. It's just that God chose to put me on that platform," Gray told ABC affiliate ABC 13 back then. "But the platform doesn't make you, it just exposes you. So whoever you are will come out wherever you are."
The pastor pointed out that people are able to spot if one is being phony or true when preaching.
"People are more discerning than they let on. They can spot a phony a mile away," he said. "I think that's the reason they come out: because they know I'm real. I may not always be perfect, and I'm not."