Joel Osteen Signs on to World's Largest Radio Broadcaster for 'Interactive and Inspiring' New Program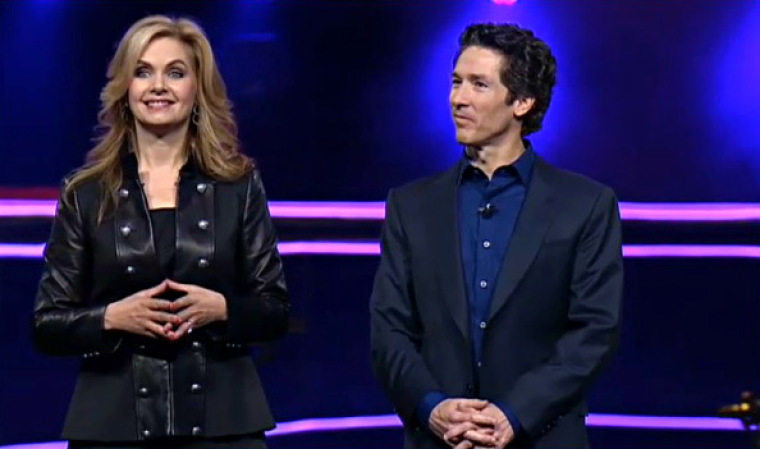 Pastor Joel Osteen, who already reaches millions around the globe via his weekly television and radio broadcasts, will have access to millions more when his new program, "Joel Osteen Radio" debuts on SiriusXM this fall.
SiriusXM, identified as "the world's largest radio broadcaster measured by revenue," announced in a press release Monday its development of a new exclusive radio channel headlined by Osteen.
"Joel Osteen Radio" will broadcast the Lakewood Church pastor and bestselling author's inspirational messages to SiriusXM's 25.8 million subscribers. Both Joel and Victoria Osteen will host weekly call-in shows, while Sunday sermons from Lakewood also will be added to the lineup.
"Victoria and I are excited about this new venture with SiriusXM," said Osteen. "We are humbled and appreciative to bring our message to the millions of SiriusXM listeners every day — and equally excited to get to know them personally through our call-in radio programs. We truly cannot wait to get started!"
Scott Greenstein, SiriusXM's President and Chief Content Officer, said he was honored to be working with the Osteens to develop their own channel "that will give people around the country access to the Osteens in a way that has never been done before."
"With their weekly call-in shows and Joel's positive message and spirit, 'Joel Osteen Radio' will be both interactive and inspiring," Greenstein added.
SiriusXM also will do a live broadcast of "America's Night of Hope," hosted by the Osteens on June 7 at Yankee Stadium in New York City.
Joel Osteen Ministries, whose stated commitment is to help "people from all walks of life experience the unconditional love and unending hope found only in a personal relationship with Jesus Christ," takes Osteen's messages into more than 100 million homes in the U.S. and reportedly tens of millions more around the globe.
In a 2013 interview with Ministry Today magazine, Osteen shared some of his perspective on Christian ministers embracing multiple platforms to share the Gospel.
While initially thinking that his television broadcast "was all I needed," Osteen soon learned the value of "the power of other media platforms."
"TV is still our biggest audience by far — and I really encourage pastors and leaders not to discount broadcast TV as a powerful tool for reaching this culture," said Osteen. "But I'm also committed to exploring every possible platform for making the gospel available to people."
Osteen is known for preaching messages and writing books about personal empowerment and success, but his upbeat messages are not embraced by all. The Texas megachurch preacher has been criticized by some Christians for teaching a watered-down Gospel message, and for neglecting to speak on issues from the pulpit related to sin and suffering.
When asked previously by The Christian Post for his response to accusations that his teaching of the Gospel is purely health and wealth, or prosperity, Osteen defined "prosperity" and emphasized his belief that the Bible teaches that God rewards obedience.
"The way I define it is that I believe God wants you to prosper in your health, in your family, in your relationships, in your business, and in your career. So I do … if that is the prosperity Gospel, then I do believe that," he said.
Meanwhile, Osteen has been gearing up for the "America's Night of Hope" event at Yankee Stadium this Saturday, where he will be joined by the Lakewood Church worship team and family members.
Osteen told CP in April that his aim for the estimated 50,000 who might attend was to "inspire them (and) let them know that God's for them."
Lakewood Church, led by Joel and Victoria Osteen, is America's largest Christian congregation, with more than 52,000 worshippers attending services weekly. The church was founded in 1959 by John Osteen and taken over after his death in 1999 by his son.