Joel Osteen Tells 'Night of Hope' Attendees to 'Tune Out' Critics: 'I Am Good at It'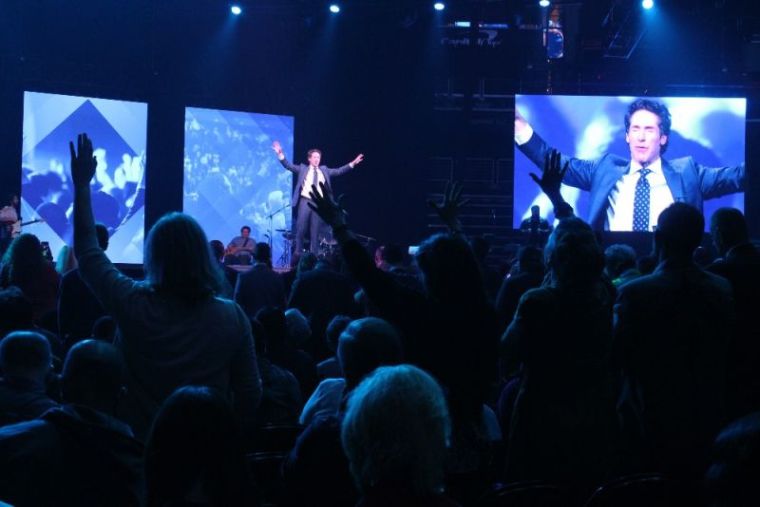 WASHINGTON — Popular and often criticized Pastor Joel Osteen told thousands gathered at the Capital One Arena on Saturday that they need not waste energy worrying about what critics think as they "rise higher" in what God is calling them to be.
Osteen, pastor of the 45,000-member Lakewood Church in Houston whose television sermons are seen by millions worldwide each week, held his 189th "Night of Hope," a two-and-a-half hour stadium event featuring worship music and messages from Osteen, his wife, Victoria, and other members of the Osteen family.
Osteen, the son of preacher and Lakewood founder John Osteen, told the crowd a little bit about how he used to be a "behind the scenes" person when he helped run the Lakewood television ministry while his father preached.
But after his father got ill and died in January 1999, Osteen took over as Lakewood's pastor without having a theology degree.
As Osteen was pushed more into the national spotlight with the growth of his television ministry, he started gaining more supporters. However, he also had to "come to terms with" the fact that he was also getting many critics.
"I began to get a little bit of notoriety. God began to — the sovereignty of God — He put me out in front of people and all of a sudden, I had critics," The 55-year-old Osteen explained. "Man, when I grew up, everybody loved me. When I was behind the scenes, my 10 friends, they all loved me. Here is the point. As God begins to elevate you, you are going to have critics."
Drawing on his own experiences, Osteen told the crowd that not everyone is going to "celebrate you."
"I don't mean to be negative, even friends that you have now, as you rise higher, some friends can't handle your success. Some friends will be jealous," he stressed. "So I like to speak about the critics because I got a few. I think I'm good at it because, you know what, you got to tune it all out."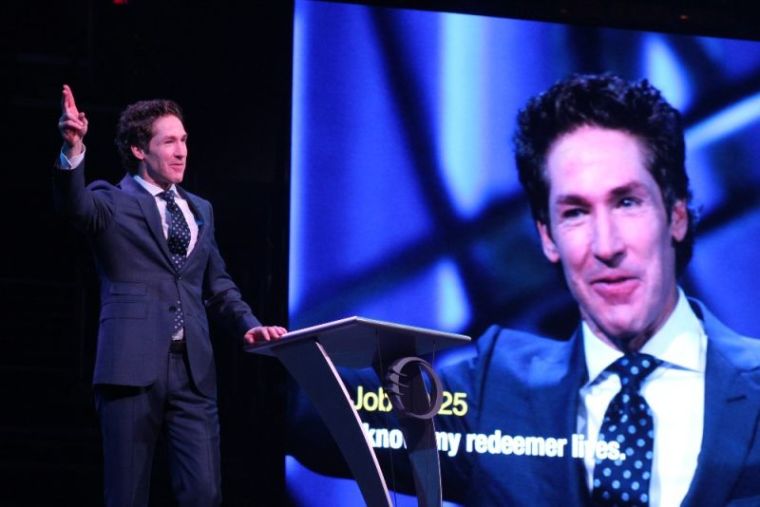 Earlier in the service, Osteen talked about the importance of having "emotional energy" and the importance of "you being you." As it pertains to critics, Osteen explained that people shouldn't waste their time in worrying about them.
"Now days with social media, probably for all of you, somebody you don't even know will make a negative comment. You know what? You don't have to answer to people," Osteen advised. "I say it respectfully. Don't let that get on the inside. Quit reading negative things about yourself. All that is going to do is poison your spirit."
"What happens is when you take in the negative, too often you will start being defensive — 'I am going to prove to them I am not that.' All of a sudden, you are changing who you are," Osteen continued. "I have learned that if you can get up every morning and search your own heart, and make sure that you are doing what God wants you to do, and you are doing it for the right reasons and the right motives, then you don't necessarily need to worry about what other people think. I am going to tell you, from the left or the right, people are going to come against you."
Osteen told the crowd to just stay faithful to being "who God has called you to be."
"Don't let that poison get on the inside of you, no critic can keep you from your destiny," he promised. "They are simply a distraction to try to get you — I got to say this better because this is good. Those critics are simply a distraction to try to get you off course by spending your valuable energy on things that don't matter."
Osteen then said that "successful people are too busy running their own race to focus on what somebody else is doing."
"Maybe tonight, you need to tune out some negative things that people are saying," Osteen said. "Everybody is not supposed to like you. Everybody is not supposed to accept you. That is what I had to come to terms with."
Referencing Scripture, Osteen added that Christians would not have salvation today if it weren't for Judas betraying Jesus.
"Judas was ordained to betray Jesus. It was a part of his destiny," Osteen stressed.
Osteen also referenced the Old Testament.
"Joseph's brothers threw him into a pit. His own family threw him there and was going to leave him there to die," Osteen said. "Joseph would have never become Prime Minister of Egypt 13 years later if his brothers had not thrown him into a pit."
"Sometimes people that come against you, it has been ordained by God," he added. "Don't get bitter of what God has ordained. I don't know if He has ordained it all. Sometimes people are mean, but you know what? God knows how to take it and turn it for good. I have learned this, people cannot keep your from your destiny. You keep running your race and be who God is calling you to be."
Osteen's comments about critics were followed by about a nearly 10-second ovation from the crowd.
Throughout his career, Osteen has faced much criticism from other followers of Christ who feel that he preaches a "watered-down" Christianity or that he is more of a motivational speaker than a pastor.
"That doesn't bother me because I want to motivate people to know God," Osteen, author of the new book, Next Level Thinking: 10 Powerful Thoughts for a Successful and Abundant Life, told The Christian Post in his dressing room before the event.
"Half the people that are coming here tonight weren't raised in church or don't go to church or this is all new to them. They won't sing during the worship, they will just watch. But I think my personality is encouraging and it's maybe motivational, but I want to motivate you to break addictions, to live for God."
Many critics also accuse Osteen of being a "prosperity gospel" preacher. Osteen doesn't think that the "prosperity gospel" label is "fair."
"I don't fully know what [prosperity gospel] means. I think there is only one gospel and that is the gospel that Jesus died and rose again. When I think of prosperity, I think of someone asking for money. I don't do that. Prosperity is having good health and being able to sleep at night and having good relationships," Osteen told CP. "It is having money to pay our bills and follow your dreams. It is not about wealth and getting rich. We talk about all types of things. On purpose, I stay away from money [in my sermons] because people already think TV pastors are frauds and all of that. I try to stay away from that, but I do believe God wants you to be blessed."
David Baird, pastor of the three-campus Life Church in Northern Virginia, attended the D.C. "Night of Hope" and defended Osteen from critics.
As Osteen often calls on his viewers and those who attend his arena events to get plugged into a Bible-based church in their local areas, Baird told CP that there have been a number of people who have come to one of the Life Church campuses after watching Osteen on television or attending a "Night of Hope" event in the past.
"People come and they find hope for their lives. In the midst of so much confusion, chaos and failure, people are looking for some good news," Baird said. "Joel has the gift to let people know deep within that there is hope and a future. It is really what the Bible says. There are so many people that wouldn't go to a traditional church building but would come where the Wizards and Capitals play."
Baird was also asked what he thought of Osteen's critics.
"I think the critics of Joel would be the critics of Jesus," he responded.