Joel Osteen's $10.5 Million Mansion, Cross-Less Church and Other Surprising Facts About the Mega-Pastor
Joel Osteen, pastor of Lakewood Church in Houston, Texas, and the bestselling author of books like Your Best Life Now and I Declare: 31 Promises to Speak Over Your Life, has been dubbed "the smiling preacher" due to his toothy smile and upbeat attitude. Here are a few facts about Pastor Osteen and his ministry you might not know.
1. Joel Osteen Met Victoria Osteen in a Jewelry Store
Pastor Osteen and his wife Victoria Osteen met in 1985 when he went to a jewelry store to buy a new battery for his watch. Osteen has shared the story about how he met his wife with the Lakewood Church family.
2. Joel Osteen Takes No Salary From Lakewood Church
People magazine reported in a 2007 feature on Pastor Osteen and his family that the megachurch pastor stopped taking a salary from his Houston church in 2005, as his book deals have proven to be lucrative. The same article reported that Osteen was paid an advance of $13 million for one book. (source)
3. The Osteens Live in a Mansion
Houston CultureMap reported in 2010 that the Osteens moved into a home in the River Oaks area of Houston, Texas, that was valued at $10.5 million. The same article reported that the Osteens had kept a former residence valued at $2.9 million while listing a vacant lot near their former home for $1.1. million. (source)
4. Lakewood Church Has No Cross
Pastor Osteen acquired Lakewood Church's new home at the former Compaq Center in 2005. The 16,000-seat arena is home to the nation's largest congregation (43,000 members) and underwent $95 million in renovations, according to a 2005 New York Times article. "Like many new evangelical churches, the building has no cross, no stained glass, no other religious iconography. Instead, it has a cafe with wireless Internet access, 32 video game kiosks and a vault to store the offering," the paper reported. (source)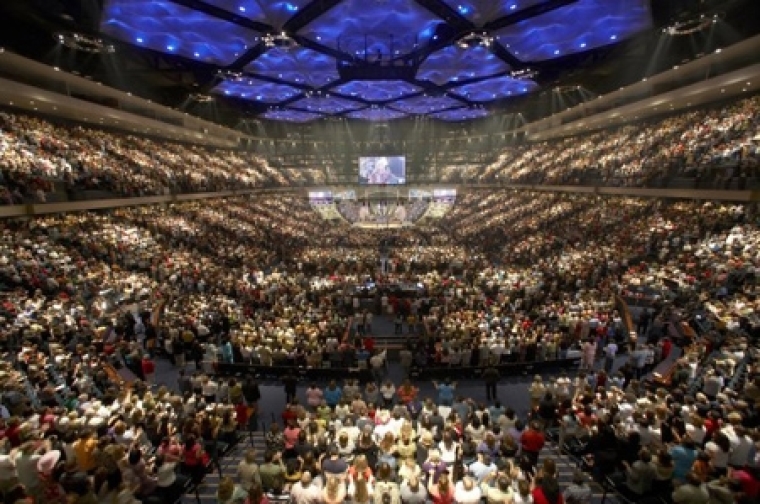 5. Joel Osteen Was an Extremely Nervous Public Speaker
Pastor Osteen told Esquire magazine earlier this year that he used to be an extremely nervous public speaker, although he does not show it nowadays manning the Lakewood Church pulpit. He overcame his fear and nervousness by pretending that his audience members were old basketball buddies from the local YMCA. (source)