John Piper Celebrates Interracial Marriage as Biblical, Laments Rise of 'Angry White Supremacy'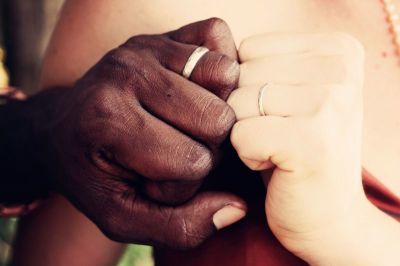 Marking 50 years of legalized interracial marriage in America, reformed theologian John Piper said Jesus Christ celebrates such marriages while warning that "angry white supremacy" has been on the rise.
"Since the recent presidential election, the ugly forces of hateful and angry white supremacy have felt empowered to show their colors in America more openly than for the last forty years," Piper wrote on desiringGod.org Monday.
"Just two weeks ago, I spoke with a friend whose Korean parents have lived as American citizens in the same neighborhood in California for decades, only to find their house, soon after the election, for the first time ever, spray-painted with racial slurs telling them to get out," he noted.
Piper celebrated the 1967 U.S. Supreme Court decision in Loving v. Virginia that legalized interracial marriage, arguing that it is a biblical practice that God approves of.
"But far more important than the legalization of interracial marriage in one nation is the fact that God's revealed will for the world is not undermined but advanced when a man and a woman from different ethnicities marry in Christ," Piper stated.
"That is a startling and controversial claim in the face of diverse opposition to interracial marriage in our own day."
Despite 50 years of legalized interracial marriages, pushback against interracial couples has been growing in America.
One couple in Virginia, D.J. and Angela Ross, shared that they still get stares by other people.
"It's true that we can be together in the open. But some things, I don't think we've made much progress," D.J. Ross said. "Discrimination still happens."
Angela Ross added that whenever she and her husband are in public with their five children, she often sees other people shaking their heads.
"Someone may look at me who disagrees with my choice in marrying my husband. I can't take that on," she noted. "I can't take on their opinion of me because I know my value and self-worth."
Actress Tamera Mowry-Housley said she received flak when she first began dating her now husband over a decade ago. And the criticism has yet to subside.
"I think the criticism is even worse now, with the racial tension that we're seeing and the political climate," Mowry-Housely said.
Piper acknowledged that some of the strong opposition to interracial couples has come from the white evangelical community.
The influential author pointed out that growing up in South Carolina, he would hear Christians use arguments from nature against interracial couples.
"Red birds mate with red birds, blue birds mate with blue birds. This is the way God meant it to be. So, it's against nature for different races to mate," opponents would say.
He said that such attitudes "inevitably breed disrespect, suspicion, and antagonism," however, and called on Christians of every race to "search their hearts and search the Scriptures, and bring their hearts, by the power of God's Spirit into line with God's word."
Piper five reasons on why interracial marriage is biblical. Among those reasons, "all races came from one human pair," he said.
"For all the misuses of the Bible to justify racial separation and subjugation, the teaching of a single common ancestor for all humans has been a massive deterrent to such abuses."
Against all objections, Christians must accept that "interracial marriage in Christ is not only a beautiful picture of Christ's marriage to his church, but also a flesh-and-blood incarnation of the unity Christ achieved by his death and resurrection."