Jon Stewart Criticizes Chicago, Boston Mayors for Discriminating Against Chick-fil-A (VIDEO)
Comedian and talk show host Jon Stewart surprisingly sided with conservatives Thursday evening when he criticized Chicago and Boston mayors for announcing their plans to ban Chick-fil-A restaurants in their cities due to its CEO's stance on homosexuality and same-sex marriage.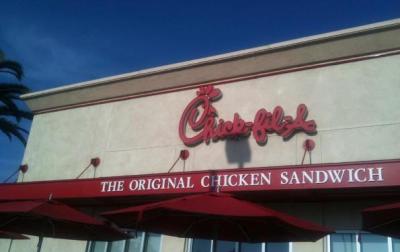 "Pretty sure you can't outlaw a company with perfectly legal business practices because you find their CEO's views repellant. Not sure which amendment covers that, but it's probably in the top one," Stewart said on his nightly mock news show, "The Daily Show With Jon Stewart," aired on Comedy Central network.
"I think maybe the mayors hadn't thought this thing through," he added.
Stewart was referencing recent statements made by Boston Mayor Tom Menino and Chicago Mayor Rahm Emanuel, who have vowed not to allow the expansion of Chick-fil-A restaurants in their cities after the Georgia-based fast food restaurant's CEO, Dan Cathy, said in an early July interview that he is a supporter of traditional marriage.
"In recent days you said Chick-fil-A opposes same-sex marriage and said the generation that supports it has an 'arrogant attitude,' " Menino wrote to Cathy in a late July letter, which was made public.
 "Now – incredibly – your company says you are backing out of the same-sex-marriage debate. I urge you to back out of your plans to locate in Boston," he added.
Emanuel wrote a similar July 25 letter regarding Chicago's Chick-fil-A chain, saying, "Chick-fil-A's values are not Chicago values."
"They're not respectful of our residents, our neighbors and our family members. And if you're going to be part of the Chicago community, you should reflect the Chicago values," he added.
Additionally, San Francisco Mayor Edwin M. Lee tweeted: "Closest #ChickFilA to San Francisco is 40 miles away & I strongly recommend that they not try to come any closer."
However, others have pointed out that federal law prohibits cities from discriminating against companies with good ethical practices but differing religious beliefs from settling in their cities.
"Tough words, shouted from an hour's distance (or more, in Bay Area traffic). But as Mr. Lee, Mr. Menino and Rahm Emanuel of Chicago, another anti-Chick-fil-A mayor, surely know, it is illegal to block a business because of its owners' religious beliefs," wrote The New York Times.
Cathy received a firestorm of public criticism for his Christian beliefs on traditional, and boycotts ensued.
However, many continue to support Cathy for his firm biblical stance regarding homosexuality. Former Arkansas Gov. Mike Huckabee even designated Wednesday, Aug. 1 as "Chick-fil-A Appreciation Day," resulting in record breaking sales for the fast food company, which is known for its fried chicken sandwiches and waffle fries.