Josh Duggar Moving to Washington to Join FRC Action
Josh Duggar, the oldest of the Duggar children from the TLC reality series "19 Kids and Counting," announced on Monday that he is on his way to Washington, D.C., to join the FRC Action group of Family Research Council as its executive director.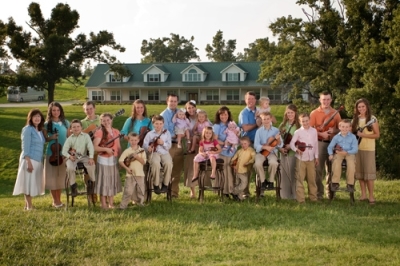 Speaking on Tony Perkin's "Washington Watch" show on Monday, Duggar announced he has accepted a job in Washington. "At FRC Action ... I'll be taking over there as the executive director," he said and added he is "excited about that."
"I think helping with all the logistics of the family of 19, certainly you are going to be handling campaigns and political activities ... should be a breeze," commented the host.
"It should be a lot of fun, and I really look forward to it ... I'm really so grateful for the opportunity ... I pray that I can continue to serve there in that capacity," responded Duggar.
Soon after the show, Duggar tweeted, saying, "Excited to announce I'll be joining @FRCAction as Executive Director in Washington, DC! So grateful for this opportunity to serve!"
The announcement about the new job comes about a fortnight after Josh and Anna Duggar welcomed their third child, another baby boy. The newest Duggar baby joins his big sister Mackynzie and brother Michael.
"We are so thankful that mom and baby are well! We are blessed to have our family close as we celebrate this gift from God," the couple told People magazine. Their older children are "thrilled to welcome a little brother" into the family.
Duggar said on the show the birth of the third child was "a precious gift."
Josh and Anna married in 2008 and welcomed Mackynzie just one year later. The couple, as well as their larger family, are devoted Christians who pledged to accept however many children God chooses to give them.
FRC President Perkins said in a statement on Monday, "We want to congratulate Josh and Anna Duggar on the birth of Marcus. They have been an inspiration to millions of Americans who regularly tune in to see the Duggar family's show. All of us at Family Research Council have long appreciated their devotion to the pro-family movement."
Josh's parents, Jim Bob and Michelle Duggar, who are also evangelical Christians, were married on July 21, 1984. Four years later, their first child, Josh, was born. Not ready for another one yet, Michelle began to take birth control pills. But she conceived and later suffered a miscarriage.
"As conservative Christians, we believe every life is sacred, even the life of the unborn," the Duggars say on the website. "Due to our lack of knowledge, we destroyed the precious life of our unborn child. We prayed and studied the Bible and found a host of references that told us God considered children a gift, a blessing, and a reward. Yet we had considered having another child an inconvenience during that busy time in our lives, and we had taken steps to prevent it from happening."
Since then, they decided to allow God to determine the number of children they would have.
Josh's Car Lot Tour | 19 Kids and Counting