Josh Duggar's Family Returns to City Where He Rehabbed After Ashley Madison Scandal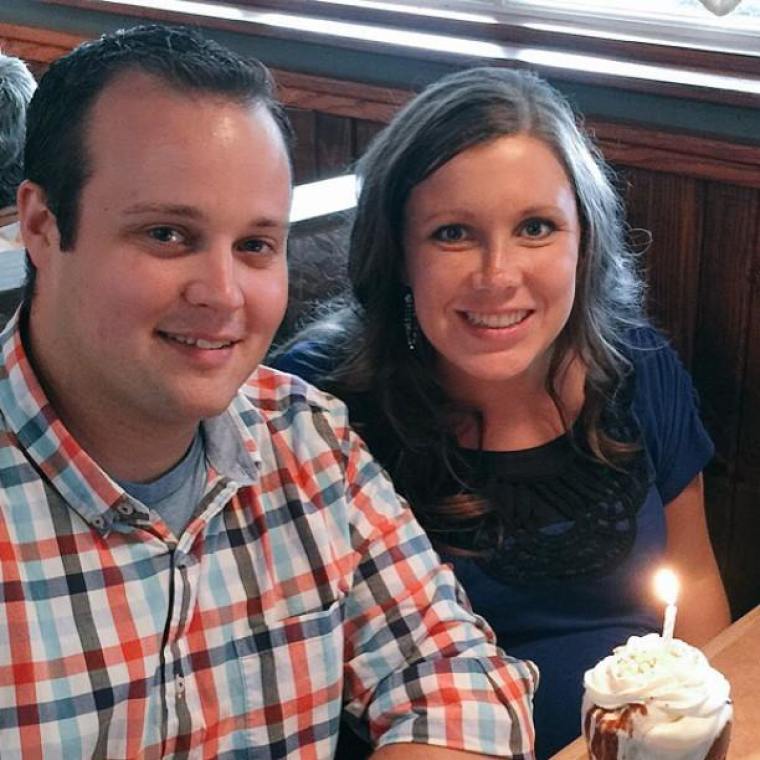 Josh Duggar and his family shared photos of themselves attending an event last weekend at North Love Baptist Church in Rockford, Illinois, which is affiliated with the Christian rehabilitation center he sought treatment at two years ago.
Josh, 29, and his pregnant wife, Anna, were at the church to watch the "Patch the Pirate" show with two of their four children, Mackynzie and Michael. The couple was also joined by  Josh's brothers, John-David, Joseph and Justin, and his father, Jim Bob. 
In a post on Twitter, Anna, who is pregnant with the couple's fifth child, mentioned the Reformers Unanimous International rehab center where Josh received treatment for pornography addiction.
"Great time w/ @PatchAdventures and friends at North Love Baptist Church tonight and grateful for their http://reformu.com  ministry," she wrote Sunday.
Josh went to the rehabilitation center after his family was rocked with scandal when police reports from a 2006 investigation were released to the media revealing that he had molested at least two of his sisters and one baby sitter as a young teenager. It was later reported that he had also allegedly cheated on his wife.
After the initial In Touch magazine report surfaced in 2015, Josh issued a public statement admitting his wrongdoing.
"Twelve years ago, as a young teenager, I acted inexcusably for which I am extremely sorry and deeply regret. I hurt others, including my family and close friends. I confessed this to my parents who took several steps to help me address the situation," Josh told People magazine in May 2015.
"We spoke with the authorities where I confessed my wrongdoing, and my parents arranged for me and those affected by my actions to receive counseling. I understood that if I continued down this wrong road that I would end up ruining my life."
Months after issuing the statement, TLC cancelled the Duggar family's long running "19 Kids And Counting" series in July 2015. In August, the website Gawker released credit card statements that allegedly showed Josh had paid for an account on the Ashley Madison adultery website. That same month, Josh resigned from his position at Family Research Council Action in Washington D.C.
Last year, the Duggar family released a statement to announce that Josh had completed his in-patient counseling at the faith-based rehabilitation program.
"Josh has completed his residential rehabilitation program. It was a crucial first step in recovery and healing for Josh," the statement said. "Josh has now returned to Arkansas, where he will continue professional counseling and focus on rebuilding relationships with his family. We look to God for help and guidance and place all of our trust in Him."