Josh Duggar's Wife Anna Joins Family for Sermon on the 'Sin of Pornography'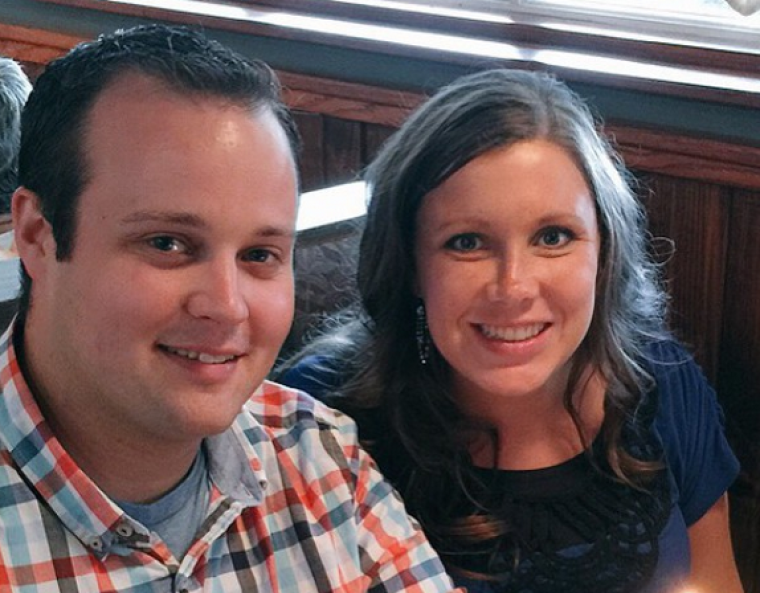 Anna Duggar, the wife of Josh Duggar, a reality star who recently came under fire for being a member of the Ashley Madison adultery website, attended a Sunday church service with fellow "19 Kids and Counting" stars Jill Duggar and Derick Dillard that focused on the sin of pornography.
Anna arrived at Cross Church with her in-laws, Michelle and Jim Bob Duggar, and during the service, Pastor Jeff Crawford addressed a topic that hit home for Anna, whose husband admitted to being addicted to porn last month during the scandal, according to "E.T."
"Pornography is a secret sin," said Crawford during the service. "I know there are some folks in here today — pornography is a deal in your life."
The church also called upon Jill and Derick Dillard to pray for their missionary work in Central America. Anna reportedly left the church with her children waving and smiling at those in attendance, according to Daily Mail.
Anna Duggar's world came crashing down last month when Josh released a statement admitting to cheating on her through Ashley Madison, and being addicted to porn.
"I have been the biggest hypocrite ever. While espousing faith and family values, I have been unfaithful to my wife," he wrote. I am so ashamed of the double life that I have been living and am grieved for the hurt, pain and disgrace my sin has caused my wife and family, and most of all Jesus and all those who profess faith in Him."
"I have brought hurt and a reproach to my family, close friends and the fans of our show with my actions," added Duggar.
Anna and Josh have been married since 2008 and have four children. Duggar also worked for Family Research Council Action, but resigned in May after reports surfaced that he molested two of his sisters and another girl when he was a teenager.
Jessa Seewald, one of the sisters who came forward as a victim and agreed to being interviewed by Fox News host Megyn Kelly, supported her brother throughout the molestation scandal, but has shared a different response amid revelations about his affair and addiction to porn.
Jessa tweeted out a link to a blog penned by father-in-law Michael Seewald that suggested her brother might not be a Christian.
The blog titled "Grief, Shame and Taking the Lord's Name in Vain" addressed the Ashley Madison scandal which outed several other Christians as users of the site.
"What is troubling is that many who take the name of Christ are among its members," wrote Seewald.
"It distresses me to say that Josh Duggar's greatest sin is a byproduct of the sum total of his secretly sinful lifestyle. That is, by his hypocrisy, he blasphemed the name of God. He claimed to be a Christian, but by his deeds he has suggested otherwise. With the name of God on his lips he lived a covert and extensive lifestyle," added Seewald.
Jessa has since taken the link to the blog off her Twitter page.