Josh Holt, American Missionary Imprisoned in Venezuela, Cries for Help as Inmates Seize Prison
Josh Holt, a former Mormon missionary who's been imprisoned in Venezuela since June 2016, begged the U.S. government for help Wednesday, saying his life was under threat as riots erupted and inmates took over the Helicoide detention center where he's being held in Caracas.
"Help me please United States, how long do I have to suffer unjustly in this place? They want to kill me and paint the walls with my blood. I am a political prisoner and they won't let me free. They won't give me a true trial," Holt, 26, wrote in a post on Facebook about his time at the detention center which is the headquarters of intelligence agency Sebin in Venezuela's capital.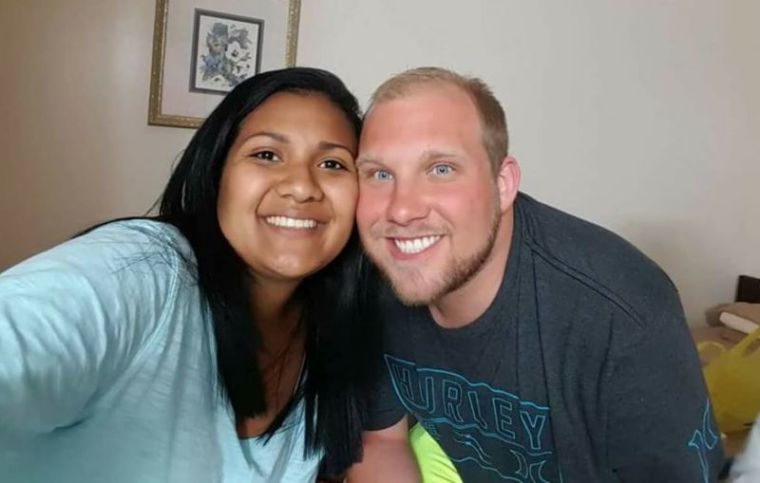 "The Sebin has told me that as long as my government continues attacking this government and as long as Marco Rubio continues talking about me the longer that they will never let me go. People here are dying, we need help. Please send me help, please send people to save me. Please, my fellow Americans, don't allow me to continue suffering in Venezuela. I am not a political pawn. I am a human being, a child of God and I just want to live happy with my wife and children. I have NEVER done anything wrong in my life. Please help me!!" he pleaded in the post.
According to The Salt Lake Tribune, Holt and his wife, Thamara "Thamy" Caleno, were arrested on suspicion of illegally possessing weapons in 2016. The former missionary and his wife, who are both committed members of the Church of Jesus Christ of Latter-day Saints, met online. Holt fell in love and traveled to Venezuela to propose. He married Caleno five days after he arrived in the country on June 16, 2016. The couple settled into the apartment in Caracas where Holt's new bride lived with her daughters while they awaited U.S. visas, according to NBC News.
Holt's family has denied the charges against him and suggested that the Venezuelan government is holding him and his wife to bargain with the U.S. over economic sanctions. His attorney, Carlos Trujillo, has previously said that his imprisonment might be related to U.S. prosecutors convicting two nephews of Venezuela's first lady, Cilia Flores, on charges of drug trafficking, according to the Tribune.
Responding to Holt's appeal, one Venezuelan official, Humberto Gonzalez, warned in a Tweet: "ALERT If the United States does not promptly rescue Joshua Holt he could be lynched by Maduro's regime agents on next hours. Keep in mind, the rule of law DOES NOT exist in Venezuela...."
A translated statement from the U.S. embassy in Venezuela posted on Twitter warned that if anything happens to Holt or any other American prisoner, Venezuela would be held responsible.
"We're very worried about the mutiny in the Helicoide. Joshua Holt and other American citizens are in danger. The Venezuelan government is directly responsible for its security and we will hold it responsible if something happens to them," the U.S. embassy said.
Matt Whitlock, a spokesman for Sen. Orrin Hatch, R-Utah, who has been working with the Venezuelan government to release Holt, said Hatch has been in contact with the Trump administration as well as with Holt's family and other Venezuelan contacts and they are all working to return him home safely.
"He (Hatch) remains focused on Josh's safety as we work to bring him home on humanitarian grounds," Whitlock said.
Rep. Mia Love, R-Utah, also confirmed with the Tribune Wednesday that she was "extremely concerned" about the situation in Venezuela but said Holt was "safe at this time."
"It is time for the State Department to quickly produce a plan of action in order to resolve this situation once and for all. Josh and his family have suffered far too long," Love said in a statement to the Tribune.
A statement from Holt's family released through his lawyer also said: "We ask that our government and representatives act immediately to achieve their (Holt and his wife) safety. We ask the community to join in with prayers on their behalf, as well."
In a statement on Facebook earlier this month, Holt's mother, Laurie Moon Holt, shared how difficult the imprisonment of her son and his wife is for her family.
"Josh and Thamy are coming up on two years in June of being held hostage by the Venezuelan government. This has been so hard and so exhausting on our whole family. I can feel that I am not as strong as I have been. I pray to my father in heaven to please bring this nightmare to an end. Please bring our family together again. It has been way to long. My Mother's Day wish is to just have them home," she said.