Michigan university can't punish Christian club for requiring leaders be Christian, judge rules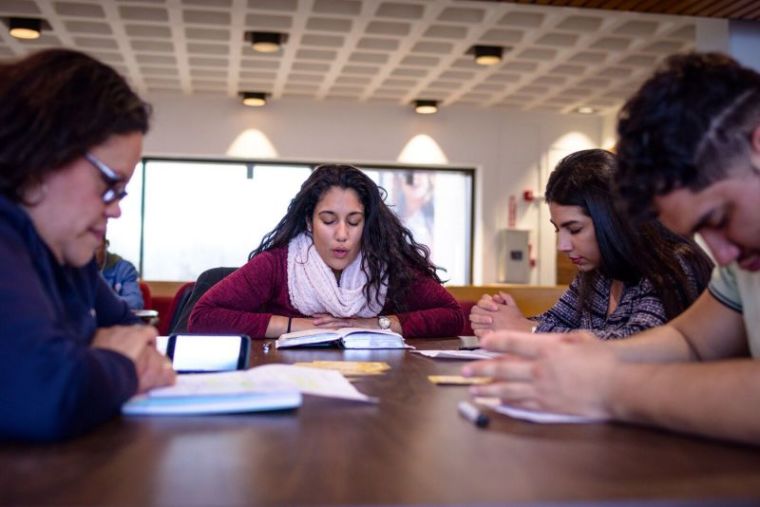 A federal court ruled on Monday to protect a Christian student organization that had its official student club status revoked by a Michigan university for requiring its leaders to adhere to its statement of faith. University officials will be held liable for discriminating against the club.
InterVarsity Christian Fellowship, a student ministry that provides community, Bible studies and important discussions on campus, has been a part of Wayne State University in Detroit, Michigan for over 75 years.
Though the club is open to all students, the university deemed InterVarsity's leadership policies "discriminatory" for requiring that the group's leaders agree with the organization's statement of faith.
WSU de-registered the club during a routine club membership reapplication process in October 2017 due to the club's supposed discrimination against non-Christians. But, the university eventually recalled its decision after InterVarsity filed a lawsuit. 
Not being recognized as a club meant InterVarsity could not enjoy certain campus benefits, such as reserving meeting rooms for free, hosting free tables at events or applying for certain campus funding.
Judge Robert H. Cleland of the U.S. District Court for the Eastern District of Michigan ruled that the university's actions "strike at the heart" of the First Amendment and are "obviously odious to the Constitution."
He added that the university's "disparate and discriminatory" treatment of the religious group violates the Constitution's Free Exercise Clause. He said the school's attempts to dictate the club's leadership are "categorically barred by the Constitution."
"The uncontested facts demonstrate that Defendants violated Plaintiffs' rights to internal management, free speech, freedom of association, freedom of assembly, and free exercise as a matter of law," Cleland, a George H.W. Bush appointee, wrote in his decision. "Defendants also violated the Establishment Clause as a matter of law."
The judge pointed out how other student groups were able to restrict leadership based on sex, gender identity, political partisanship, ideology, creed, ethnicity, GPA or attractiveness but the "small group of Christians ... were denied [student organization] benefits because they require their Christian leaders to be ... Christian." 
The lawsuit was filed against WSU's board of governors, board members and administrators. 
Officials will be held personally liable for violating the rights of InterVarsity students. Defendants must pay $1 in nominal damages and are enjoined from revoking the student group's status as a registered student organization based on its "religious criteria for student leadership selection."
"No religious group can constitutionally be made an outsider, excluded from equal access to public or university life, simply because it insists on religious leaders who believe in its cause," the ruling stated.
The Becket Fund, a religious freedom legal group, represented InterVarsity.
"The law is crystal clear: universities can't kick religious student groups off campus just because they choose leaders who share their faith," Becket Senior Counsel Lori Windham said. "The court's common-sense ruling today means that InterVarsity must be treated fairly, just as it had been for 75 years at Wayne State, and now can continue its good work serving a diverse campus community."
Becket filed the federal lawsuit against WSU on InterVarsity's behalf in March 2018.
"Wayne State rightly allows fraternities to have only male leaders, female athletic clubs to have only female leaders, and African-American clubs to have only African-American leaders," the lawsuit stated. "But Wayne State cannot then say it is wrong for a Christian club to have only Christian leaders."
The lawsuit noted that WSU recognizes the Ahmadiyya Muslim Students Association as a student organization but failed to recognize the Christian group.
"Simply put, Wayne State is unconstitutionally targeting InterVarsity because of InterVarsity's religious beliefs," the lawsuit stated. "As an arm of the state of Michigan, Wayne State is subject to Michigan anti-discrimination law, which prohibits religious discrimination in educational institutions."
Just two days after the 2018 lawsuit was filed, the university relented and allowed the group back on campus temporarily but argued it still had the right to remove the campus group.
The ruling in the WSU case comes after courts had earlier ruled in favor of other Christian student groups, including another InterVarsity chapter, who filed similar lawsuits against the University of Iowa.
Just last month, the U.S. Court of Appeals for the Eighth Circuit ruled that officials at the University of Iowa did not have qualified immunity from all claims made in a lawsuit filed by the student group Business Leaders in Christ. The group sued the school after being derecognized for refusing to adhere to a non-discrimination policy that required the group to open its leadership positions to non-Christians.