Justice Anthony Kennedy on 5 Supreme Court Rulings: Prayer, Religious Liberty, Gay Marriage
Justice Anthony Kennedy on 5 Supreme Court Rulings: Prayer, Religious Liberty, Gay Marriage
Masterpiece Cakeshop v. Colorado Civil Rights Commission (2018)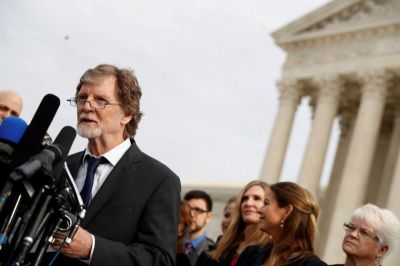 In one of the last Supreme Court decisions he contributed to, Kennedy wrote the majority for the 7-2 decision in favor of Colorado baker Jack Phillips, who refused to make a wedding cake for a same-sex couple due to his Christian beliefs. The couple asked for a cake to be designed for their wedding in 2012, a time when same-sex marriage wasn't legal in Colorado. 
Kennedy was joined by Justices Samuel Alito, Elena Kagan, Clarence Thomas, Steven Breyer, Neil Gorsuch, and Chief Justice John Roberts.
Kennedy ruled that the state's Civil Rights Commission had violated Phillips' First Amendment when it processed the complaint against him. He also noted that the treatment Phillips received was clearly different from Christian activist Bill Jack.
Jack asked bakeries to make a cake with Bible verses related to homosexuality. A Colorado regulatory agency decided that a bakery does have the right to refuse Jack's request.
"... while enforcement proceedings against Phillips were ongoing, the Colorado Civil Rights Division itself endorsed this proposition in cases involving other bakers' creation of cakes, concluding on at least three occasions that a baker acted lawfully in declining to create cakes with decorations that demeaned gay persons or gay marriages," wrote Kennedy.
"[An] indication of hostility is the difference in treatment between Phillips' case and the cases of other bakers who objected to a requested cake on the basis of conscience and prevailed before the Commission."