Scalia's Son Tells Mourners at Funeral: 'Today We Reflect on What God Did for Dad'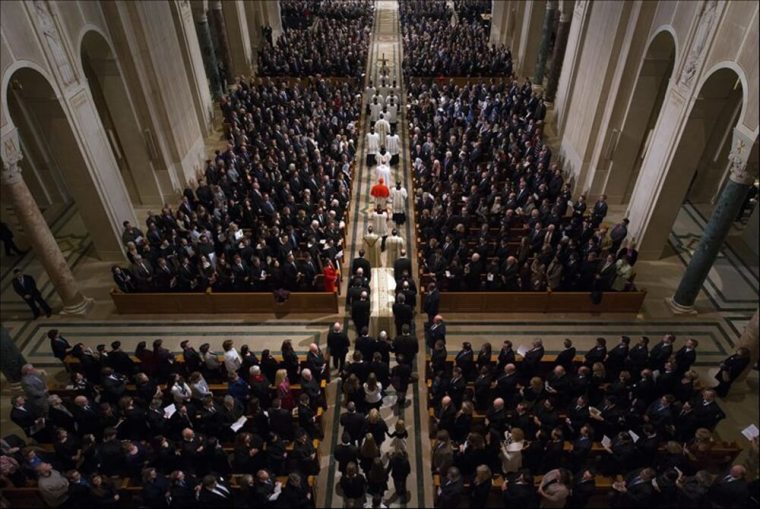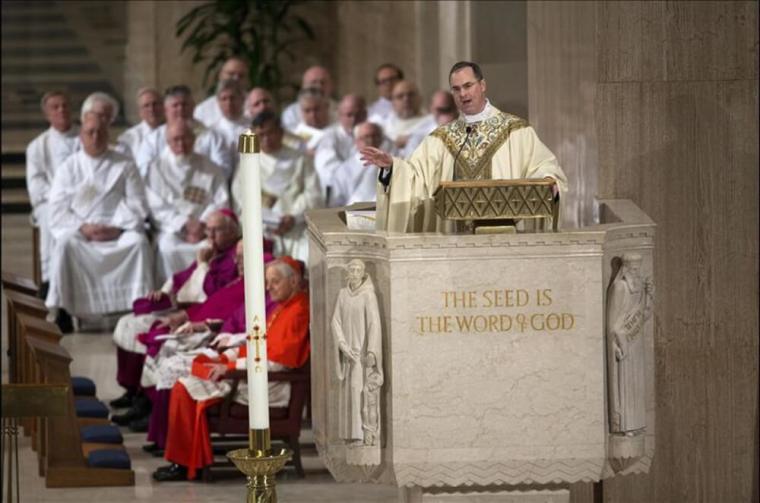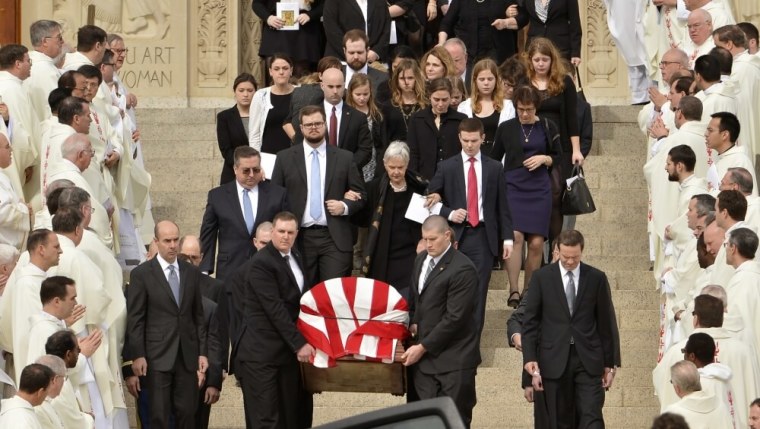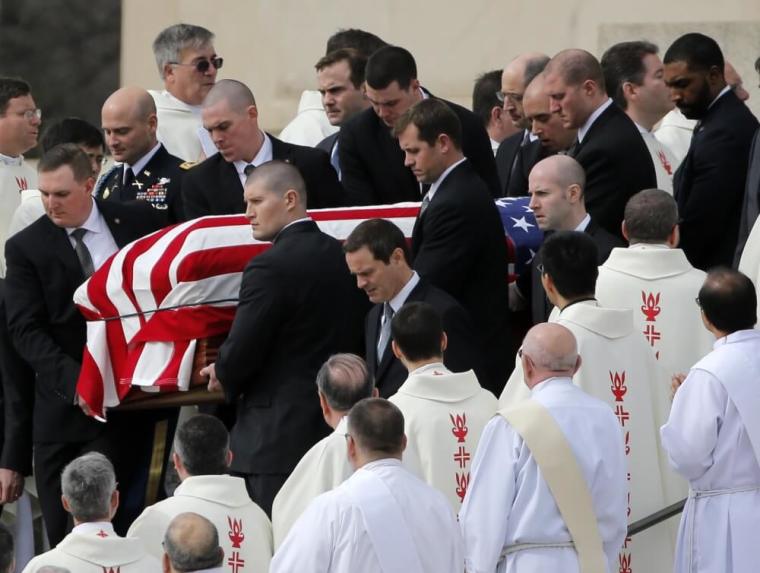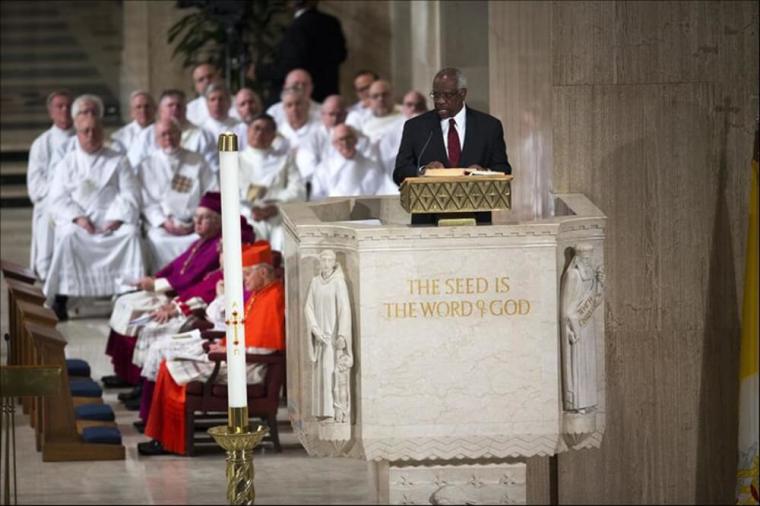 View Photos
Thousands of mourners, including sitting justices of the Supreme Court, Vice President Joe Biden and Republican presidential candidate Sen. Ted Cruz, gathered in Washington, D.C. Saturday for Justice Antonin Scalia's funeral, which was led by his son, a priest. President Obama did not attend the mass.
"We are gathered here because of one man, a man known personally to many of us, known only by reputation to many more; a man loved by many, scorned by others; a man known for great controversy and for great compassion. … That man, of course, is Jesus of Nazareth," the late justice's son, the Rev. Paul Scalia, told the attendees at the Basilica of the National Shrine of the Immaculate Conception.
Justice Scalia, a devout Catholic, died unexpectedly last week at 79.
Among the attendees were former Vice President Dick Cheney, former House speaker Newt Gingrich, several members of Congress, all eight sitting justices of the Supreme Court as well as judges of U.S. Court of Appeals for the District of Columbia, including Sri Srinivasan, Patricia Millett and Merrick Garland, who are widely seen as possible nominees to replace Scalia.
"He was a practicing Catholic, practicing in the sense that he hadn't perfected it yet," the priest, Justice Scalia's son who serves the diocese of Arlington, Virginia, said.
"In the past week, many have recounted what Dad did for them. But here today we reflect what God did for Dad. How He blessed him!" he added.
Justice Scalia didn't like eulogy in funeral services, as was revealed in a private letter he had written in 1998.
"God blessed Dad, as it's well known, with a love for his country," Rev. Scalia continued. "He knew well what a close-run thing the founding of our nation was. And he saw in that founding, as did the founders themselves, a blessing. A blessing quickly lost when faith is banned from the public square or when we refuse to bring it there."
The priest added, "He understood that there is no conflict between loving God and loving one's country, between one's faith and one's public service. Dad understood that the deeper he went in his Catholic faith, the better a citizen and public servant he became."
Paul Scalia also talked about Justice Scalia's family life. "Sure he forgot our names at times or mixed them up, but there are nine of us," he said jokingly, but added, "He gave us one another, the greatest wealth that parents can bestow."
Rev. Scalia also shared how his father once unknowingly stood in his line to confess sins. When Justice Scalia realized that, he said, "Like heck I'm confessing to you," Paul Scalia recalled. "The feeling was mutual."
At the funeral, Justice Clarence Thomas read a passage from the New Testament, and the executive director of the Federalist Society, Leonardo Leo, read a passage from the Old Testament.
President Obama, who, along with first lady Michelle Obama, members of Congress and more than 6,000 mourners, paid respects to Justice Scalia as his casket laid in repose at the Supreme Court building Friday, did not attend the funeral.
White House spokesman Josh Earnest sought to explain, saying, "Obviously, when the vice president travels to some place, his security footprint is at least a little bit lighter. But given his personal relationship with the family and given the president's desire to find a respectful way to pay tribute to Justice Scalia's service to the country, we believe we have settled on an appropriate and respectful arrangement."
Republican presidential frontrunner Donald Trump tweeted, "I wonder if President Obama would have attended the funeral of Justice Scalia if it were held in a Mosque? Very sad that he did not go!"
Others also criticized Obama for his decision.
Former Republican Sen. Rick Santorum, who was at the funeral, was quoted as saying, "The president paid his respects yesterday and I think that's appropriate. The vice president was here. Those are all personal decisions on the president's part and I respect whatever he decides to do."
CNN spoke to Cruz after the funeral. "As Ronald Reagan was to the presidency, so too was Antonin Scalia to the U.S. Supreme Court," he was quoted as saying. "Justice Scalia has been a personal hero of mine, virtually my entire life."
Cruz said a nomination to replace Scalia should wait until the next president takes office. "It has been 80 years since the Senate confirmed a Supreme Court nominee who was nominated during an election year and we should not start now. We have an election in just a few months and I think the American people should be able to choose the direction of this court."
The Scalia family will hold a memorial program March 1.