Kansas City Chiefs Shooting: NFL Player Shoots Himself Dead at Arrowhead Stadium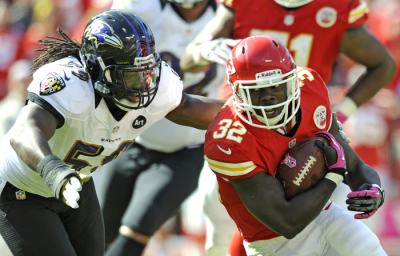 A Kansas City Chiefs player has shot himself dead at the team's main stadium in an apparent suicide.
Reports are suggested that the unnamed NFL player was involved in an earlier shooting a few miles away, but no details have been confirmed yet.
READ MORE: Jovan Belcher Named as Kansas City Chiefs' Player Who Shot Himself (Details) - Click HERE
It is alleged that after an initial shooting incident the plater reportedly went to a training facility at Kansas City's Arrowhead Stadium, where he turned the gun on himself, committing suicide.
The Kansas City Chiefs have confirmed that "an incident" had occurred at their Arrowhead Stadium on Saturday.
According to sources, the stadium was cordoned off as other Chiefs' players started arriving for practice. Police officers broke the tragic news to them as they arrived, saying that one of their teammates had shot himself.
The Kansas City Chiefs are scheduled to play the Carolina Panthers on Sunday afternoon.
According to the Charlotte Observer, the NFL has at the moment asked the Carolina Panthers' team to continue with their plans and take their flight to Kansas City as planned to play the game.
The Chiefs have released a statement that read: "We can confirm that there was an incident at Arrowhead earlier this morning. We are cooperating with authorities in their investigation."