Kate Middleton's Red Dress at Diamond Jubilee is Kim Kardashian's Grocery Outfit (PHOTOS)
Out with the old and in with the new, unless of course you are the Duchess of Cambridge. Despite having a fairytale come true, Kate Middleton has remained a modest classic who isn't afraid to recycle her outfits, or bare resemblance to the infamous Kim Kardashian.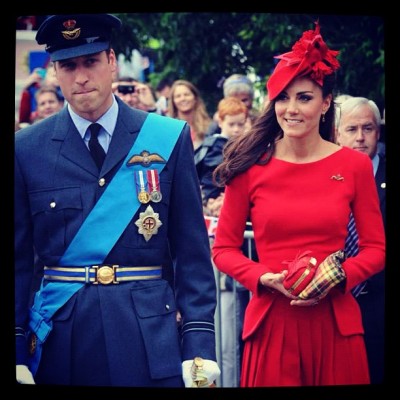 While most everyday girls would admit that it is absurd to only wear a dress once, it's hard enough to let go of the idea of not repurposing that very expensive wedding dress, most celebrities turn a nose up at the idea of making a public appearance in a gown that has already been worn. Kate Middleton, however, is no typical celebrity, and despite her rising princess status, the Duchess arrived to the Queen of England's Diamond Jubilee wearing last season's fashion.
The much-adored Duchess with a highly revered fashion sense arrived wearing a red Alexander McQueen dress from the 2011 collection, paired with a red flowered hat that Middleton has already worn at least twice before.
Meanwhile, Queen Elizabeth appeared in a white and silver coat, which she paired with a Swarovski crystal trimmed hat. The outfit was the custom work of her in-Palace couturier, Angela Kelly.
Despite the ongoing rain, the Queen managed to stand an impressive 4-and-a-half hours in honor of her guests.
"I think she thought a million and half people have come to the Thames to wave her on, cheer her on, she was not going to sit down," ABC News' royal correspondent Roya Nikkhah said. "They were standing up. She stood 4.5 hours. Extraordinary stamina. That's why she's still going. That's why we're celebrating her Diamond Jubilee."
Middleton is also apparently not the only one to favor the red Alexander McQueen gown, which has also been worn by Kim Kardashian. Kardashian paired the look with rattlesnake skin heels sometime last year as she headed to the local New York City grocery store.
Kate Middleton Wearing A Stunning Floor-length Cream Gown (VIDEO)