Katy Nichole talks to Candace Cameron Bure about her journey to making 'In Jesus Name'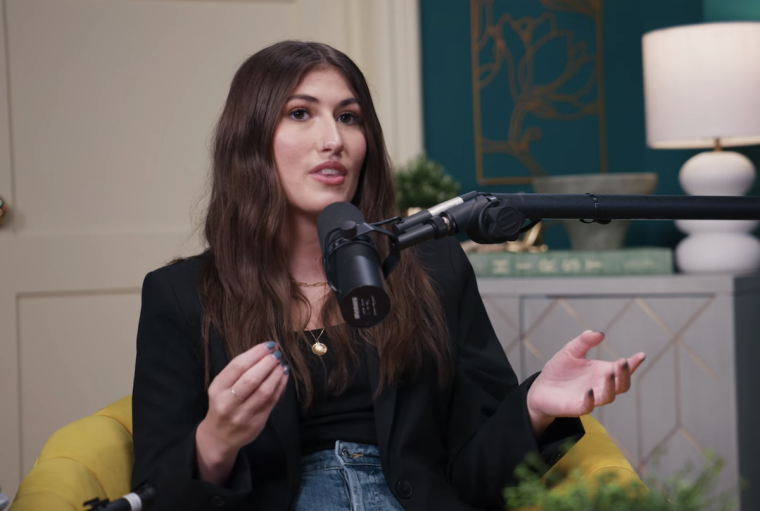 Christian musician Katy Nichole recently spoke with actress Candace Cameron Bure about how much she relies on prayer and faith in God in moments of despair and during life's high notes. 
The 22-year-old artist said she believes the power of God led to her song going viral after she posted a recording of herself singing the chorus of "In Jesus Name (God of Possible)" on TikTok that went viral and subsequently became a hit song. 
Nichole told Bure that this song, in particular, "carries something that is not from me." 
During the podcast released on June 16 as part of Bure's "summer song series," Nichole shared how she started out in music as a full-time worship leader at her church. At the time, she was also in medical school and had no idea she would eventually make music her full-time career. 
After she became a certified medical assistant and continued as a worship leader for about two more years, Nichole said she "started to feel as though the path that God was leading me down wasn't medical, and it was music-related." 
​​"I'm so grateful that I get to create music that has an encouraging, uplifting message so that someone can be given hope throughout their day," Nichole said.
The song that made her famous, "In Jesus Name (God of Possible)," was on Billboard's Christian Airplay chart for 20 consecutive weeks.  
The song received a nomination for a GMA Dove Award in 2022, and she was awarded Worship Song of the Year at the 2022 K-LOVE Fan Awards. 
Nichole was also nominated as Favorite Inspirational Artist at the 2022 American Music Awards.
She once believed she would solely be a worship leader at her church and never anticipated that her dream of being signed to a record label would become a reality. However, God took her by surprise.
"Honestly, I would've been fully satisfied with [singing worship at my church for many more years] because I love having the community of that, and I love being able to lead people well in that," Nichole said. "So, that space was always a comfortable space for me, but I think God was trying to pull me out of that comfort zone." 
In 2022, Nichole posted a clip of her singing portions of her song "In Jesus Name (God of Possible)" on social media. And it wasn't long before the clip spread across social media platforms, garnering roughly 80 million impressions of fans using her song in their own videos. 
Nichole said that what many people don't know about her journey in music is that she was signed by a record label prior to her song going viral. She said she remembers praying to God about the chances of her being signed to a label before it ever happened. 
She decided that "laying [her dream to be signed to a record label] at the feet of Jesus, [while] not really thinking much of it," might not lead to anything. However, her prayer eventually became her reality. 
"In Jesus Name (God of Possible)" was written in roughly eight months. "It actually is straight from my prayer journal," Nichole said. 
Nichole's other popular song, "God of Possible," was created in Nashville while she was sitting at a piano in the middle of having a panic attack because "the anxiety had gotten to me."
Nichole said she credits God for the creation of all her music and her success thus far.  
"This is my heart. This is the expression of my relationship with God," she said.