Katy Perry Shares Fear of 'Death' in Throwback Video as Christian Rocker (VIDEO)
Katy Perry Shares Fear of 'Death' in Throwback Video as Christian Rocker (VIDEO)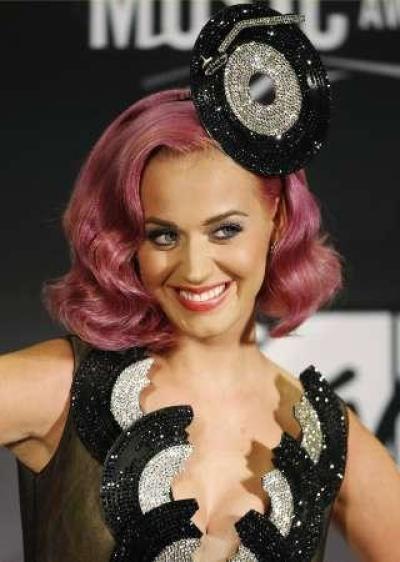 Katy Perry fans were delighted over the weekend when a "throwback" video of the pop singer surfaced online.
A 90-minute video of the "Roar" singer, 29, was condensed to showcase highlights of her during her Christian rock days. Perry, who was raised in a Christian home by her parents, is seen in a completely different light in the footage – which was filmed over a decade ago.
"Everyone thinks I'm like a superstar, but that's not how I am at all. I'm just some little kid from California who plays the guitar and sings," Perry can be heard saying. "And I write what I think needs to be written. I write what I deal with; actually I write what I want to say to people that I can't say through my mouth I guess."
The video begins with a 17-year-old Perry giving a tour of her tour bus and there are snippets of her Christian rock performances. The normally vibrant and provocatively dressed pop star appears with pigtails in the video, looking more wholesome and at times subdued.
"I'm really afraid of death, too. I'm afraid that I'll be 80 one day and everyone I know will be passed on and I'll just be waiting. I have lots of songs to write about. I have this writer's block that I've had for six months," she says in another part of the clip.
Jim Standridge is said to be the cameraman behind the video and he explained his decision to release the video of Perry, born Katy Hudson, 13 years after filming it.
"The other day I was cleaning out some old footage in my office and found 90 minutes of raw footage I had totally forgot about. … I quickly put together a short edit of the experience with Katy," he wrote in the Vimeo clip. "Funny how she spent so much time messing with her hair…. In the present day her hair changes color and style in every photo shoot, music video and performance…. I think Katy has grown into an amazing entertainer and woman. Enjoy."
Perry rose to stardom in 2008 and she is today one of the biggest names in pop music. The "Teenage Dream" singer once explained her decision to move away from gospel music and on to secular music.
"I released a gospel record when I was 15 because I grew up in a household where all I ever did was listen to gospel music," Perry told Australian TV presenter Ruby Rose. "I swear I wanted to be like the Amy Grant of music but it didn't work out, and so I sold my soul to the devil."