Katy Perry's Preacher Parents Attend Singer's Tour Despite Disagreeing With Music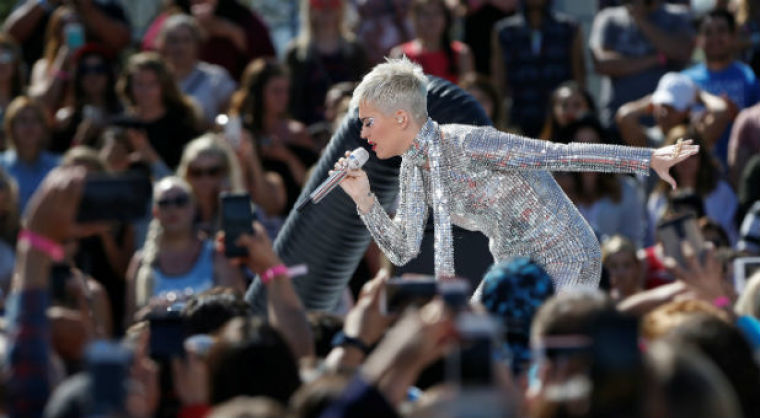 Katy Perry's preacher parents weren't always happy about the content in her music but that didn't stop them from taking part in her latest tour.
Perry is currently embarking on her fourth tour, called "Witness: The Tour" which supports her fifth studio album Witness. During a tour stop in Des Moines, Iowa, her parents, Keith and Mary Hudson, were spotted in the crowd.
According to the Des Moines Register, Perry brought her mother on stage at the Wells Fargo Arena where over 11,000 concert attendees witnessed her tell jokes Saturday.
"What do you call a bunch of John Deere tractors at an Iowa McDonald's on a Saturday night?" Perry's mom asked the crowd before responding, "prom."
She went on to ask, "What is an Iowa Rolls-Royce?" before revealing the answer, "A John Deere tractor."
The Hudsons attended their daughter's show while celebrating their 38th wedding anniversary, Mary revealed on stage. While the pair have been vocal about not agreeing with their daughter's music choices with songs like her 2008 hit "I Kissed a Girl," they were proud that she performed her song "Rise" at the 2016 Olympics.
Although Perry has fallen away from her evangelical upbringing, her father has called for people to pray for her instead of passing judgment.
"I want you to pray for my daughter," Keith said when speaking at the Church of Grace in Yorba Linda, California, last year, according to Radar Online. "Don't judge her, pray for her. She's going to be singing 'Rise' for the Olympics this year. We're very proud of it and her."
Perry previously told Marie Claire that she no longer considers herself a Christian but does believe that she still has a connection with God.
"I'm not Buddhist, I'm not Hindu, I'm not Christian, but I still feel like I have a deep connection with God. I pray all the time — for self-control, for humility," she told Marie Claire. "There's a lot of gratitude in it. Just saying 'thank you' sometimes is better than asking for things."