Kelly Clarkson Gay Rumors Untrue, Singer is Dating Reba's Stepson
Singer Kelly Clarkson has again addressed the rumors surrounding her sexuality, this time speaking directly to the public from the set of "The View." Clarkson explained that she thought her single status has led to speculation that she might be homosexual.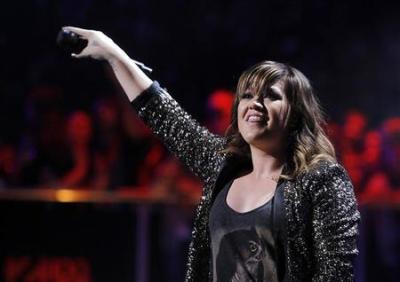 "I'm from a small town, so, like, everyone's married with children or about to have children. So it's a little hard when you go home and people are like- and that's why people think I'm gay- because they're like, 'Why aren't you married?' And I'm like, 'It doesn't happen for everyone right off the bat,'" she told the hosts of "The View."
Clarkson, who shot to fame after competing on "American Idol," has remained focused on her career and has chosen to stay single during the busiest time of her life. She recently released her fifth album, and has been on tour and promoting it across the country.
Make no mistake, though, Clarkson has spoken directly about which sex she would prefer to date.
"I'm extremely flattered when I do get hit on by girls," she said in 2009, "and I think it's hot, but I'm not into it. I like boys."
She also told E! News, "I'm pretty sure I've never made out with a girl. It's just not helping me because I'm straight. No boy wants to hit on me because I make mean songs about them, and they think I'm gay."
As it turns out, Clarkson has found at least one guy who wanted to hit on her. The 30-year-old is currently dating Brandon Blackstone, stepson of country music icon Reba McEntire.
"I just had my 30th birthday and we went turkey shooting. It's what I wanted to do, so we went," she told Lucky magazine.
"Brandon is my manager's son. I've known him for six years, but he was married. Then suddenly, there he was at the Super Bowl, and he was single." The two started dating not long after.
Kelly Clarkson Addresses Lesbian Rumors