Kelly Clarkson Special 'Cautionary Christmas Music Tale' - Singer Wows Audience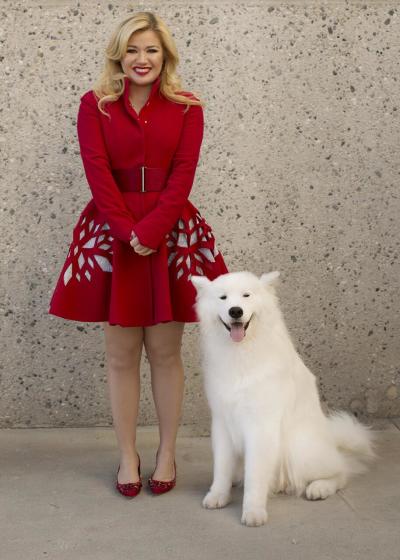 Kelly Clarkson, who just released her brand new Christmas album, fittingly starred in a televised Christmas special on Wednesday night.
"Kelly Clarkson's Cautionary Christmas Music Tale" hit the airwaves while thousands of viewers tuned in as the pregnant singer lit up the screen alongside fellow stars such as Blake Shelton, Trisha Yearwood and Reba McEntire.
William Shatner, "Community" star Kim Jong and Miranda Lambert also stopped by during the hour-long television event.
However, NBC's Christmas morality tale starring the "American Idol" failed to resonate with some viewers who were disappointed in the humor and the sometimes puzzling story line.
Nevertheless, there was one aspect that all viewers agreed on- Clarkson's award-winning voice.
On Twitter, users shared their reactions to "Kelly Clarkson's Cautionary Christmas Music Tale" including Danielle who wrote that it was "so good!"
"And @blakeshelton was so funny on it, love them both," she added.
Ashleigh added, "Watched @Kelly_Clarkson's Christmas special.. she is hilarious and that voice!"
"2 songs into the @kelly_clarkson Christmas special and I already know that if I can be 1/100000 as talented as her I'll die happy," wrote Courtney.
Throughout the show, Clarkson performed eight songs from her new album "Wrapped in Red" and did not let her pregnancy inhibit her sense of style. The singer donned three different looks during the show, including a gorgeous, fairy-tale inspired red gown during her performance of "Silent Night."
Watch Clarkson's "Silent Night" from the television special on YouTube here.
Although Shelton fulfilled a comedic role in the special, the country music star did not offer his vocals during the show, disappointing his dedicated fans.
Next week will see "Michael Buble's 3rd Annual Christmas Special" on NBC as the countdown to Christmas continues.
Alternately, last week, Carrie Underwood tried her hand at a live Christmas special- "The Sound of Music Live." The show garnered harsh reviews.