Kendrick Lamar Says 'All Glory to God' After Winning Grammy's 'Best Rap Album'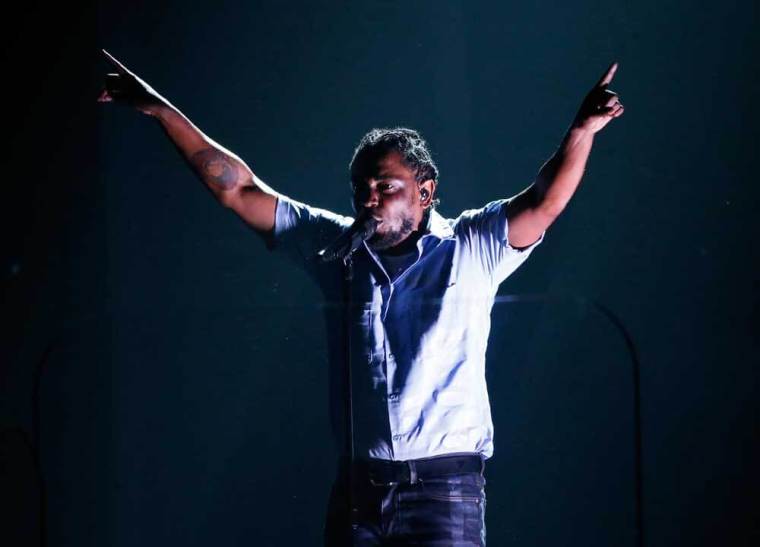 Rapper Kendrick Lamar praised God on Monday for his big Grammy win of "Best Rap Album."
The 28-year-old artist took the stage at the 58th Annual Grammy Awards to thank God, his wife and his parents after he won the "Best Rap Album" award for his To Pimp a Butterfly record.
"First off all glory to God, that's for sure," the rapper told the audience, who responded with a standing ovation.
"My foundation, my root to me being on this stage, Kenneth Duckworth and Paula Duckworth, those who gave me the responsibility of knowing and understanding, accepting the good with the bad [...] I'll always love you for that," Lamar said when thanking his parents.
"Whitney, I will always love you for supporting me and keeping me motivated, and for being the best person," the musician said about his wife.
Lamar, who hails from Compton, California, went on to thank his record label, Top Dawg Entertainment, for getting him and other young artists "out of the projects, out of Compton, and putting them right here on this stage."
The singer/songwriter also thanked hip-hop and its trailblazers, including Snoop Dogg and Ice Cube.
Lamar's heartfelt acceptance speech gained the attention of the Obama administration, with the White House tweeting: "Shoutout to @KendrickLamar and all the artists at the #Grammys working to build a brighter future. #MyBrothersKeeper."
President Barack Obama said in an interview with People magazine last year that his favorite song of 2015 was Lamar's "How Much a Dollar Cost" from the To Pimp a Butterfly album.
The "Money Trees" artist also took home awards for Best Rap Performance, Best Rap Song, Best Rap/Sung Collaboration, and for collaborating on Taylor Swift's "Bad Blood" song.
Several fans and fellow musicians also commended Lamar for his charged Grammy performance, which included the rapper performing "The Blacker the Berry" and "Alright" alongside African-American dancers dressed as prisoners in chains and behind bars.
Lamar concluded his politically-charged performance with a large bonfire on stage.
"Congrats @kendricklamar! Impactful & Strong performance," journalist Piers Morgan tweeted.
"BLOWN AWAY by @kendricklamar so much Heart.. Extraordinary performance," Justin Timberlake added.
Along with taking a political stance in his perfomances, Lamar has also addressed his Christian faith, as seen in the introduction to his album "Good Kid, M.A.A.D City."
"Lord God, I come to you a sinner, and I humbly repent for my sins. I believe that Jesus is Lord. I believe that you raised Him from the dead. I will ask that Jesus will come into my life and be my Lord and Savior. I receive Jesus to take control of my life that I may live for Him from this day forth. Thank you, Lord Jesus, for saving me with your precious blood. In Jesus' name, Amen," Lamar says in the intrduction.
Lamar recently spoke about the Grammy Awards in an interview with the New York Times, saying he would be honored to win any and all of tthe awards because he believes they are important.
"They're all important, because of the foundation the forefathers laid before me. Nas didn't get a chance to be in that position. [Tupac.] So to be acknowledged and to actually win, it's for all of them," Lamar told the newspaper.