Kentucky becomes latest state to ban puberty blockers, sex-change surgeries for kids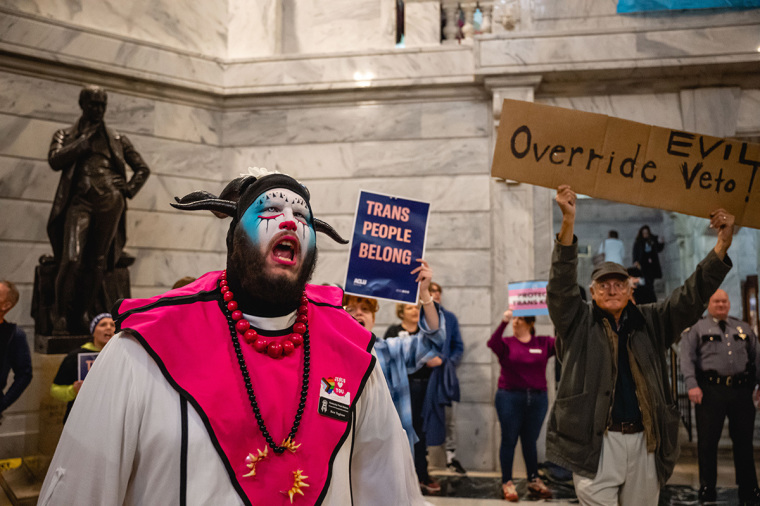 Kentucky has become the latest state to ban puberty-blocking drugs and body-mutilating sex-change surgeries for youth younger than 18 after lawmakers overrode a veto by Democratic Gov. Andy Beshear.
The Republican-led Legislature overwhelmingly voted to override Beshear's veto on Senate Bill 150 Wednesday, voting 29-8 in the Senate followed by 76-23 votes in the House. 
Kentucky state police arrested 19 protesters who were in the House gallery during the proceedings in response to their refusal to stop shouting and chanting after they had been told to keep quiet, reported Politico.
"I think it's unfortunate that it reached that level and certainly they were given, as I've been told since then, multiple opportunities to either quiet their chants or to leave voluntarily," said Republican House Speaker David Osborne, as quoted by Politico.
The American Principles Project, a socially conservative organization, celebrated the bill's passage, noting that it makes Kentucky the 13th state to pass such measures.
APP President Terry Schilling said in a statement on Wednesday that many children "have been indoctrinated with the spurious idea that they can be 'born in the wrong body' and encouraged to respond to any discomfort with their identity by pursuing life-altering, dangerous drugs and medical procedures."
"As we've seen this week, this ideological assault on our society has the potential to produce deadly consequences. Lawmakers are not only right to respond; they have an obligation to do so," Schilling said.
"We are grateful to Kentucky legislators for standing firm and passing this strong law to protect their state's children and families, despite Gov. Beshear's disgraceful decision to veto it. And we look forward to even more states taking similar actions in the coming days."
The American Civil Liberties Union of Kentucky denounced the lawmakers' votes to override the governor's veto and vowed that they will consider legal action against the new law.
"Trans Kentuckians, medical and mental health professionals, and accredited professional associations pleaded with lawmakers to listen to the experts, not harmful rhetoric based in fear and hate," said ACLU-KY Executive Director Amber Duke in a statement on Wednesday.
"To all the trans youth who may be affected by this legislation: we stand by you, and we will not stop fighting. You are cherished. You are loved. You belong. To the commonwealth: we will see you in court."
Earlier this month, Kentucky lawmakers overwhelmingly passed SB 150, which, among other things, bans prescribing puberty blockers, chemical castration, physical castration and other surgeries on minors with the purpose of trying to look more like the opposite sex. Often, youth are left with maimed bodies that no longer function sexually after removing sex organs and having surgeries that mutilate their genitals. 
The bill also prohibits the Kentucky Department of Education from requiring school faculty to have to use the chosen pronouns of trans-identified youth, bans the study of "gender identity, gender expression or sexual orientation" in schools and requires students to use facilities such as bathrooms and locker rooms that are designated for their biological sex rather than their chosen gender identity.