Kentucky Clerk Defies Supreme Court, 'Under God's Authority,' on Gay Marriage Licenses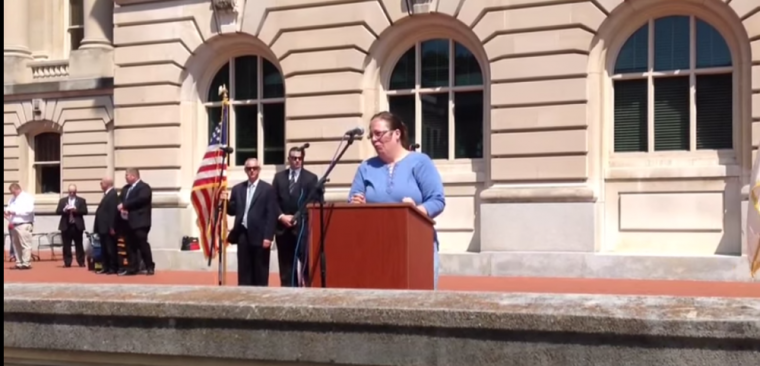 Even after a Monday rejection from the U.S. Supreme Court, a county clerk in Kentucky will still not issue marriage licenses to same-sex couples, calling the matter "a Heaven or Hell decision."
Kim Davis, the Rowan County clerk who refuses to grant licenses to gay couples over her religious objections, was denied an appeal in her legal action by the U.S. Supreme Court.
When same-sex couple David Ermold and David Moore went to Davis' office Tuesday for a marriage license, Davis turned them away. (Video of the confrontation was posted at The New York Times.) When Davis is asked what authority she has to deny the couple a marriage license, she replied, "under God's authority."
The Liberty Counsel, which is representing Davis, posted a statement Tuesday afternoon from the clerk, who continues to refuse to issue licenses to gay couples.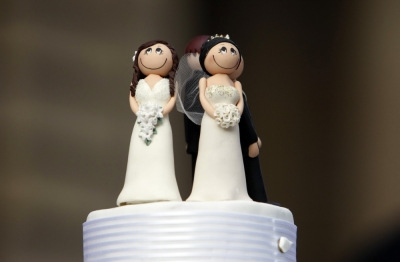 "To issue a marriage license which conflicts with God's definition of marriage, with my name affixed to the certificate, would violate my conscience," stated Davis.
"It is not a light issue for me. It is a Heaven or Hell decision. For me it is a decision of obedience. I have no animosity toward anyone and harbor no ill will. To me this has never been a gay or lesbian issue. It is about marriage and God's Word."
Davis also called it a matter of religious liberty, citing the First Amendment of the U.S. Constitution and the Religious Freedom Restoration Act among other legal documents.
"Our history is filled with accommodations for people's religious freedom and conscience. I want to continue to perform my duties, but I also am requesting what our Founders envisioned — that conscience and religious freedom would be protected," continued Davis.
On June 26, the U.S. Supreme Court ruled 5-4 in Obergefell v. Hodges that state level bans on gay marriage violated the Fourteenth Amendment of the U.S. Constitution.
Obergefell was the culmination of over a year of judicial rulings that struck down several state constitutional amendments passed by popular referenda.
Since the Supreme Court's decision, many county clerks across the nation have either refused to issue marriage licenses to gay couples or resigned from their posts.
The National Organization for Marriage, a pro-traditional marriage group, called Davis and other clerks taking similar actions "absolute heroes."
"All American citizens are encouraged to stand up for marriage, especially through actions such as these," stated NOM on July 1.
"While the opposing side may well attempt to invoke violent attacks against us, those who support marriage as the union between one man and one woman have the benefit of truth on their side."
Last month, Davis refused to follow an order from the U.S. District Court for the Eastern District of Kentucky demanding that she issue marriage licenses to gay couples.
During the appeals process for the legal action against her, Davis was eventually given a stay on the decision that expired on Monday.
An attempt to be given a longer injunction failed Monday, as the Supreme Court declined to stop the expiration of the initial stay.
Following her continued refusal to issue marriage licenses to same-sex couples, Davis' next step in the legal battle will be a contempt hearing on Thursday.