Kentucky Clerk Is Wrong to Deny Gay Marriage Licenses, Says Same-Sex Marriage Opponent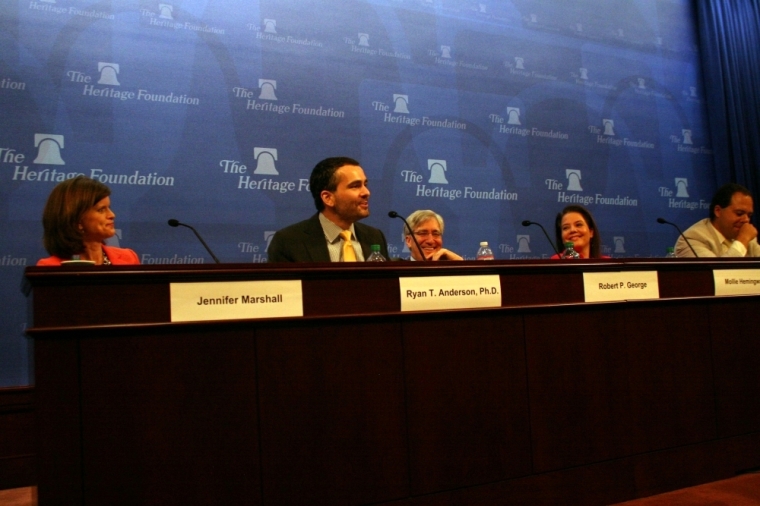 WASHINGTON — Prominent conservative activist and author Ryan T. Anderson, one of the most prolific thinkers opposing the redefinition of marriage, thinks the Supreme Court made the right decision Monday in refusing to hear a case from a Christian Kentucky clerk who is denying marriage licenses to same-sex couples.
After the Supreme Court ruling in Obergefell v. Hodges in June established that states could no longer refuse to issue same-sex marriage licenses, Kim Davis, the elected clerk in Rowan County, Kentucky announced that her office would no longer be handing out any marriage licenses so that she could stay true to her Apostolic Christian faith.
After a federal court ruled in August that Davis' clerk office could no longer refrain from issuing marriage licenses because of her Christian objection to same-sex marriage, Davis and her lawyer filed an emergency application with the Supreme Court seeking exemption from the district court's ruling until her appeal process can be completed. However, the court struck Davis' application down. Despite her Supreme Court loss, Davis is still not issuing any marriage licenses and will face a contempt hearing Thursday. .
Anderson, a Heritage Foundation senior fellow and the author of the newly released book, Truth Overruled: The Future of Marriage and Religious Freedom, said during a Tuesday Heritage Foundation discussion that he thinks Davis overstepped her power by ordering her entire office to not issue marriage licenses. However, he is much in favor of granting individual court clerks the right to refrain from marrying same-sex couples.
"When it comes to public actors, I do think the [Religious Freedom Restoration Act] balancing test is necessary. That's why I think the Kentucky clerk office was overreaching to a certain extent," Anderson said. "Because, what was at stake in the Kentucky case was that it wasn't just an individual county clerk who was saying 'I need to have an accommodation. I can't issue licenses for same-sex couples.' She was ordering her entire office not to issue these licenses."
Although Anderson does not agree with same-sex marriage becoming a constitutional right, he explained that since the Supreme Court ruled, no clerk's religious objection from marriage can trump the rights of couples to be wed by other officials within that county clerk office.
"Religious accommodations say that you have a right under Title XII of the Civil Rights Act to a reasonable accommodation that doesn't introduce an undue burden on your employer, and your employer could be the government or a private agency," Anderson explained. "The idea here is that citizens, because of the court ruling, are now entitled to a marriage license. So we have to balance those things."
Anderson further explained that there are reasonable ways in which the religious freedom rights of clerks and magistrates can be protected without having to infringe on the rights of couples seeking to marry.
He referred to the law passed in North Carolina in June that grants clerks and magistrates the ability to opt-out of having to issue marriage licenses as long as they notify their superiors of their objection to same-sex marriage. The superior is then responsible for making sure that someone else in the office would provide licenses to same-sex couples.
"What North Carolina did i think is a better solution," Anderson said. "This way it is a win-win — the clerk with the religious objection has his or her conscience rights protected, but so too, no one would ever be turned away from the county clerk's office. I think those are the types of solutions that we need to be seeking from the public side of this debate."
Anderson asserted that along with a religious exemption law like North Carolina passed for government employees, there needs to be a "bright-line" rule for non-government actors to act according to their religious and moral beliefs about marriage.
With bakers, florists and other wedding vendors being fined hundreds of thousands of dollars by state governments for their refusal to participate in same-sex weddings, Anderson contended that the religious freedom of business owners and other private actors must be protected.
He praised the First Amendment Defense Act that was introduced this summer by Rep. Raul Labrador, R-Idaho, and Sen. Mike Lee, R-Utah, that would prohibit the federal government from taking a coercive action against individuals, companies and institutions who act in accordance with the traditional definition of marriage.
On a different but related note, fellow panelist and conservative Princeton professor Robert P. George argued that Supreme Court's reasoning in Obergefell v. Hodges provides no reasoning for why the government should continue being involved in the marriage process.
"Marriage redefined gives us no basis, no ground of principle for imagining that the state should be involved in the relationship no more than the state should be involved in ordinary friendships or the state should be regulating bar mitzvahs or baptisms," George stated. "It literally privatizes the concept of 'marriage.' The reason for that is that it is not marriage. It's not marriage any more than abortion is health care."