Kevin Durant Says Pastor Carl Lentz Taught Him: 'We Don't Live by Ten Commandments'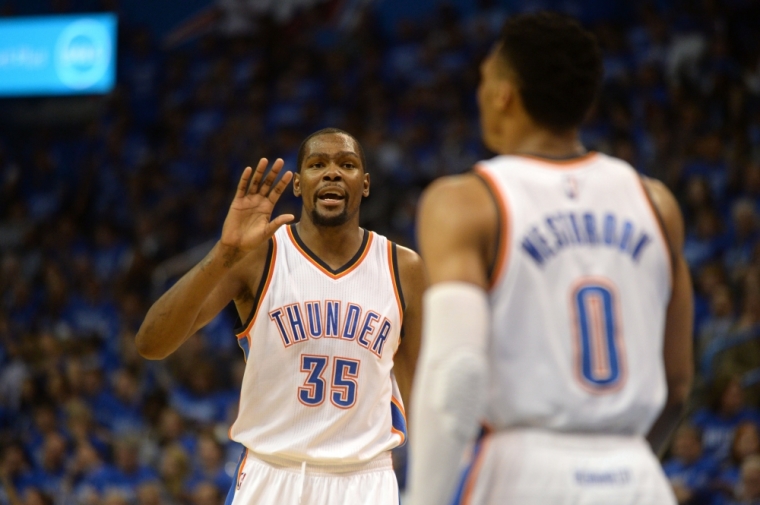 Kevin Durant is giving Pastor Carl Lentz credit for his new outlook on life.
In a GQ magazine interview, the Oklahoma City Thunder forward spoke about the Hillsong New York City pastor teaching him that God is more about love than following a set of rules.
"I felt like I had to follow the Ten Commandments. But we don't live by that no more," the 27-year-old forward surmized in the GQ interview. "We live by the blood of Jesus. That's how I feel."
Durant was baptized at Hillsong NYC three years ago, and said he once believed "if I do something wrong, I'm going to hell."
Even though Durant plays basketball in Oklahoma City, he revealed that he wanted Lentz, whose church is in New York City, to guide him spiritually. Durant admitted that he was drawn to Lentz because of the way he treated people and liked the fact that the pastor was unfazed by his celebrity.
"I thought you were weird first of all," Durant said while visiting Hillsong and speaking at the service in 2013. "Where I come from pastors are always in nice suits but you just dress like me. I really appreciate it …"
While speaking at Hillsong Church, Durant shared his baptism experience where Lentz, his grandmother and mother were present.
"When I came out of the water, I just felt different. Basketball is so important to me and I carry that emotion with me all of the time, and before that [being baptized] I would be so mad at the smallest things," Durant revealed to Hillsong Church attendees. "My coaches, my teammates, my fans. After that, I was just so positive. Showing God [and] His grace."
It seems Lentz has the same affinity for the NBA star. Two years ago, Durant spent some time during his NBA offseason assisting the popular Hillsong pastor, and even accompanied Lentz on a trip to Montana in 2014.
There, the pair were joined by professional basketball trainer Adam Harrington and visited the Fresh Life Church in Kalispell, led by Pastor Levi Lusko. Lentz shared a photograph of the foursome spending time with one another.
"It was truly a blessing to spend a few days in MONTANA with @levilusko and his AMAZING CHURCH! Levi has always inspired me to remember that we can't always choose what happens TO US, but we can always control what comes THROUGH US..," Lentz captioned the Instagram photograph. "He is a world class leader! (Kevin Durant) (Adam Harrington) solid road assistants/interns..#overqualified #shotsfired #literally."
The basketball star's mother, Wanda Pratt, spoke about her son's new devotion to faith, explaining to the blog XONecole last year, "We don't live in the same place. So he introduced me to [Lentz] and that's the way he wants to follow his faith. If Jesus is there then I'm in!"