'Killing Jesus' Star Emmanuelle Chriqui on Playing John the Baptist's Killer and Seeing the Light in Hollywood
'Killing Jesus' Star Emmanuelle Chriqui on Playing John the Baptist's Killer and Seeing the Light in Hollywood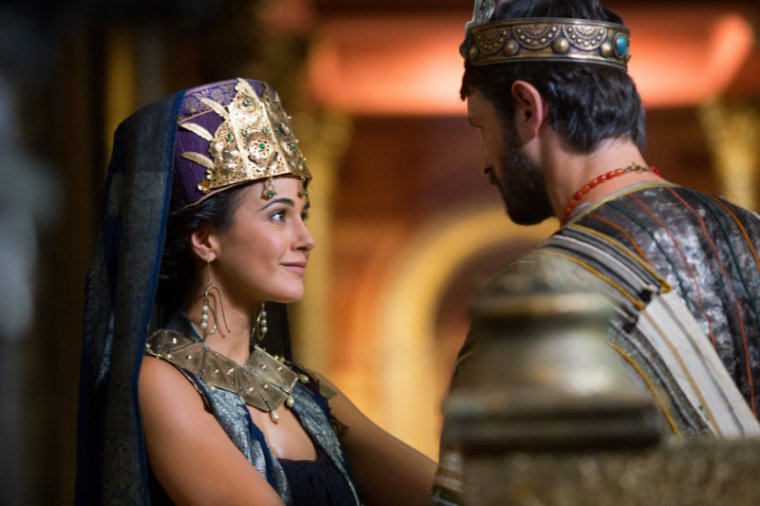 NEW YORK — Emmanuelle Chriqui, best known for playing Sloan in the hit HBO series "Entourage," and who stars as Herodian in the National Geographic mini-series "Killing Jesus" — that will re-broadcast on Fox News Friday and Sunday nights — reflects on the role she took on in portraying the woman who had a hand in the death of John the Baptist during an interview with The Christian Post.
"Ultimately, she's a bad guy. She didn't think she was a bad person. She thought that she was doing absolutely what she needed to do," Chriqui told CP last week before the film's New York City premiere.
Unlike her previous roles, being cast as Herodian meant that she was playing the part of royalty, which was a first for her.
"To play a royal, it's unlike anything I've ever done," she said. "It's so hard to describe. What do you have in common with that? Really, not much. So there was this really cool element of discovery that happened when I was there."
Chriqui explained that wearing costumes that resemble clothing from time period enabled her to get into character and fully reflect Herodian while filming, and it even made her "walk differently," which Chriqui attributed to "movie magic."
One of the most challenging aspects of the role of Herodian was playing what she described as a "very hated person" in history due to her involvement in the beheading of Jesus' cousin, John the Baptist.
"The bigger challenge for me was getting past playing a very hated person [that was] deeply despised and finding a way to play it and not play the evil," she said. "That's the cartoon way of playing it. [It's more about] who's the woman? That was the challenge."
Speaking further about Herodian, a woman despised by so many, Chriqui admitted that taking on a role such as this one for an extended period of time could "mess with" an actor's "head."
The actress, who was raised Jewish, also commented on what she believes to be the motivation behind the growing trend of faith-based films being made in Hollywood.
"I really feel like we're in unique times," she said. "And I feel like there's a giant shift of consciousness that's occurring. And I think that the more conflict and darkness that there is in the world, I feel like there's an equal balance of people trying to find the light. And I think that film and television is often a great gauge to know what's going on in society."
"In 50 years from now, [people] could look back at our past 10 years and see that there was a rise of just searching for the light. [Seeing] people wanting to do good and looking for the light."