Kim Davis, Christian Faith and ISIS 'Triggering an Apocalyptic Showdown' at GOP Debate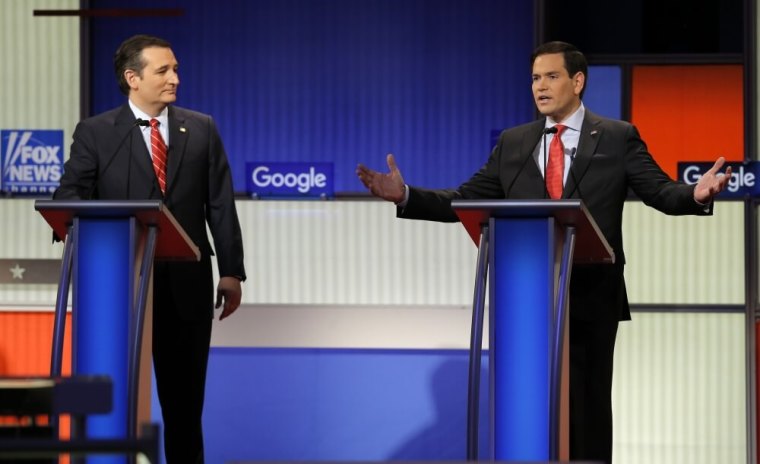 As Rubio continues to court Evangelicals in Iowa, a voting block that Sen. Ted Cruz, R-Texas, attempting to unite, Rubio has released ads in Iowa touting how his faith inspires every decision in his life.
When asked a question about Christie, Rubio, who is currently about 12 percentage points behind Cruz for second place in an average of Iowa GOP polling, took the opportunity to assure voters that his Christian faith influences the way he governs and lives his life. He also mentioned the importance of the role that Judeo-Christian values play in the formation of United States.
"I think if you do not understand that our Judeo-Christian values are one of the reasons why America is such a special country, you don't understand our history," Rubio said. "You see, why are we one of the most generous people in the world — no, the most generous people in the world? Why do Americans contribute millions of dollars to charity?"
"It is not because of the tax writeoff," Rubio added. "It is because in this nation, we are influenced by Judeo-Christian values that teach us to care for the less fortunate, to reach out to the needy, to love our neighbor. This is what's made our nation so special."
Earlier in the debate, Kasich was asked by Wallace about how his Christian faith played a role in Ohio's Medicaid expansion, where Kasich mentioned how his state is now better able to treat the mentally ill.
"In terms of my faith, look, all I say is that when I study Scripture, I know that people who live in the shadows need to have a chance," Kasich said. "But I'm not deciding that anybody's got to make these decisions the way that I do, on the basis of what I do. But what I will tell you this. The time has come to stop ignoring the mentally ill in this country and begin to treat them and get them on their feet, along with, of course, with treating the drug-addicted."