Kim Davis Facing Lawsuit for Denying a Man a License to Marry His Laptop Computer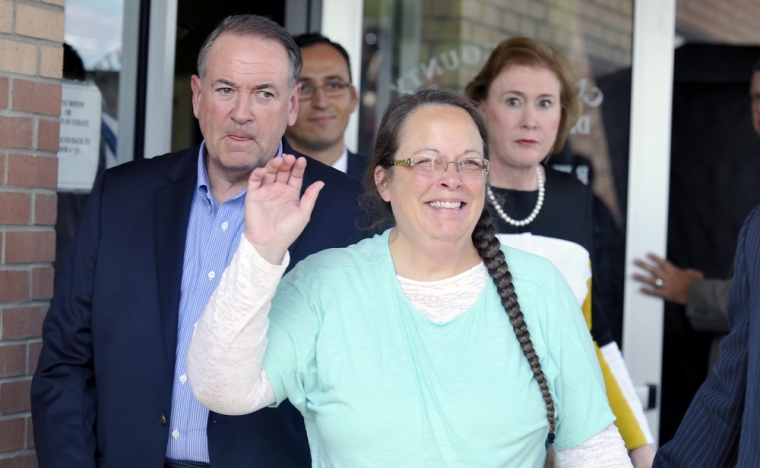 Kentucky County Clerk Kim Davis, who recently claimed victory in a long-standing religious freedom, gay-marriage case, is facing a new lawsuit from a man whom she denied a license to marry his laptop computer.
Liberty Counsel explained in a press release that the plaintiff, Mark "Chris" Sevier, is looking to argue that marriages between same-sex couples have the same legitimacy as a human marrying an inanimate object.
Sevier has also named Governor Matt Bevin and Kentucky Attorney General Andy Beshear in the lawsuit.
"This lawsuit is frivolous," said Mat Staver, Founder and Chairman of Liberty Counsel. "There is obviously no right for a man to marry a machine. When you make gender irrelevant to a gender-based relationship you open Pandora's box and make a mockery out of marriage."
Davis made nationwide news back in 2015 when she spent six days in jail for her refusal to allow her name to be placed on marriage certificates authorizing same-sex marriages due to her religious beliefs that marriage is solely between a man and a woman.
Davis continued refusing to have her own name or title on such licenses, though later agreed to not interfere with deputies who choose to issue gay marriage certificates.
Kentucky Senate Bill 216 ("SB 216"), which is due to take effect July 14, provided the clerk the exemption that she had been asking for, as it modifies the state marriage licensing scheme to remove entirely a County Clerk's name, personal identifiers, and authorization from any license.
"I am thankful to the legislators for passing this law, to Gov. Matt Bevin for signing it, to Liberty Counsel for representing me, and most of all to Jesus Christ who redeemed me and is my solid rock on which I stand," Davis said in June.
"I am pleased that I can continue to serve my community as the Rowan County Clerk without having to sacrifice my religious convictions and conscience."
Davis said in an interview with The Daily Independent last week that she has no regrets over anything that happened, as she feels it was part of God's plan.
"I had one little girl write me. She told me she had been in a dry, down place for a long time," the Rowan County clerk said.
"She told me she knew my story. She saw it on TV. She said she rededicated her life to the Lord because of me. This is when I knew; what God was using me for was of vital importance for our nation, not just Kentucky."
Davis reflected also on her meeting with Pope Francis in Washington, D.C., in September 2015, where the pontiff thanked her for her stand and asked that she pray for him.
"That blew my mind. I thought I was on candid camera," said Davis. "They said no, it's real. You have to keep this secret. God just worked it out perfectly."