Kim Davis Seeks Right to Refuse to Issue Marriage Licenses to Gay Couples Until Case Is Settled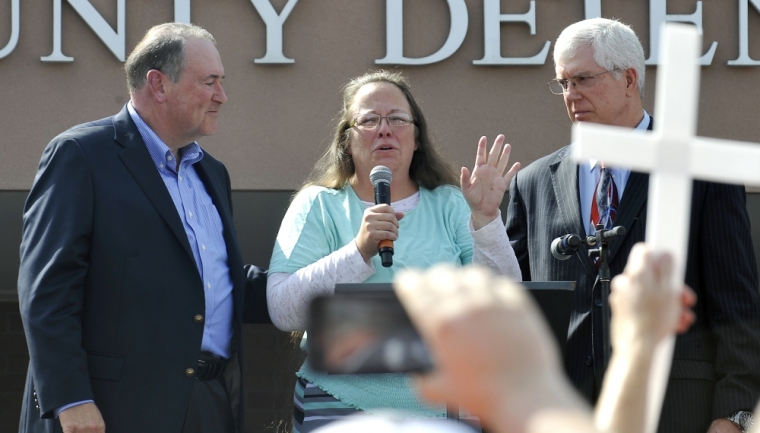 Kim Davis, the Kentucky clerk who was in jail for refusing to issue marriage licenses to same-sex couples in defiance of a Supreme Court ruling, filed a motion Friday asking an appeals court to allow her to refuse to issue licenses when she returns to work Monday, until her case is settled.
In the motion filed with the Sixth Circuit U.S. Court of Appeals, the Rowan County clerk's attorneys urged that her entire office be allowed to abstain from issuing marriage licenses pending the court's decision on the case.
Her attorneys argued that U.S. District Judge David Bunning's initial order concerned only the couples who sued her. The judge violated Davis' right to due process during her appeal by including in his initial injunction any couple legally eligible to marry, the attorneys said, according to Reuters.
Davis' deputy clerks issued marriage licenses to the couple who sued her and other same-sex couples while she was in jail for six days until Tuesday. Her attorneys say the certificates issued without her authority have been void.
In a separate filing Friday, the Christian clerk's attorneys said that the case would be over if the governor uses the same authority that allowed him to change the certificates to be gender neutral to remove her name from the documents.
Bunning had ordered Davis to issue marriage licenses, but she cited "God's authority" as the reason to defy the Supreme Court ruling in June legalizing gay marriage across the nation. The judge ordered her arrest, and warned that any other clerk who refuses to issue licenses could also be found in contempt of court.
"God's moral law conflicts with my job duties," Davis told the judge before her arrest. "You can't be separated from something that's in your heart and your soul." She had defied several court orders to issue marriage licenses.
Bunning chose a prison sentence over a fine because he believed Davis, who makes $80,000 per year, would not comply with his order if fined.
"The court cannot condone the willful disobedience of its lawfully issued order," the judge said. "If you give people the opportunity to choose which orders they follow, that's what potentially causes problems."
A gay rights group, Planting Peace, has erected a billboard in Davis' hometown of Morehead, saying: "Dear Kim Davis, The fact that you can't sell your daughter for three goats and a cow means we've already redefined marriage."
However, many traditional marriage advocates and Republican presidential candidates are backing her.
Republican candidate Rick Santorum compared her with Martin Luther King.
"Martin Luther King went to jail because he didn't follow the law," Santorum said last week in a radio interview. "There's a long precedent in America from people saying, 'You know the law has to change to accommodate what is the right thing to do.'"
"She is showing more courage and humility than just about any federal office holder in Washington," former Arkansas Republican Governor Mike Huckabee said earlier in a statement.
Kentucky Senator Rand Paul also earlier said that Davis' arrest would only "harden the resolve" of traditional marriage advocates. "I think it's a real mistake [to jail Davis], and even those on the other side of the issue, I think it sets their movement back," he said on CNN.
Texas Republican Sen. Ted Cruz and Louisiana Republican Gov. Bobby Jindal both said earlier that Christians should be able to serve in elected office and not have to compromise their conscience. Wisconsin Governor Scott Walker also said that the First Amendment guaranteed Americans' freedom of religion.
"I just want to give God the glory," Davis said after her release. "His people have rallied and you are a strong people. We serve a living God who knows exactly where each and every one of us is at. Just keep on pressing. Don't let down. Because he is here; he is worthy; he's worthy. I love you guys. Thank you so much."