Kim Davis Claims Decisive Victory in Religious Freedom, Gay Marriage Case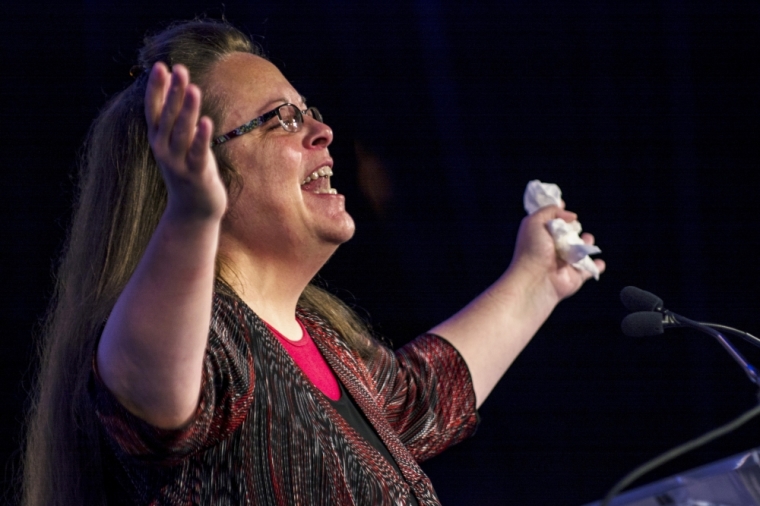 Kim Davis, the Kentucky clerk who spent six days in jail for refusing to issue gay marriage licenses, has said that a new state law taking affect soon provides her the religious freedom accommodation she has sought from the beginning, and is putting an end to legal proceedings.
"I am thankful to the legislators for passing this law, to Gov. Matt Bevin for signing it, to Liberty Counsel for representing me, and most of all to Jesus Christ who redeemed me and is my solid rock on which I stand," Davis said in a statement, shared by the Liberty Counsel.
"I am pleased that I can continue to serve my community as the Rowan County Clerk without having to sacrifice my religious convictions and conscience."
In 2015 Davis refused to have her name on marriage certificates authorizing same-sex marriages, due to her religious beliefs that marriage is solely between a man and a woman.
Davis later decided that she would not be interfering with deputies who choose to issue gay marriage certificates, but continued to refuse having her own name or title on them.
Kentucky Senate Bill 216 ("SB 216"), which is due to take effect July 14, provides Davis the religious exemption that the clerk had been seeking, Liberty Counsel explained.
The bill modifies the Kentucky marriage licensing scheme to remove entirely a County Clerk's name, personal identifiers, and authorization from any license, which is what Davis had been petitioning for.
"From the beginning, Kim Davis requested the very accommodation for her religious convictions that the Kentucky legislature passed and which Gov. Matt Bevin signed into law. The previous governor could have made the same accommodation but refused to do so. Instead, he was willing to violate deeply-held religious convictions about marriage in order to press his ideological agenda," said Mat Staver, Founder and Chairman of Liberty Counsel.
"Now that Kim Davis obtained the accommodation she has always requested, we notified the Court of Appeals that the case has become moot and no further legal proceedings are needed. We are very pleased with this outcome."
The Huffington Post noted that the legal team for the gay couples in Davis' case did not oppose the clerk's move to seek to put an end to legal proceedings.
"We agree that Kim Davis's appeals should be dismissed," said Daniel Canon, one of those lawyers. "Once the new Kentucky law becomes effective, all loving couples seeking to obtain marriage licenses will be able to do so on an equal basis."
Davis was praised by conservative groups such as the Family Research Council for her stance, who in September 2015 honored her with the "Cost of Discipleship Award."
"What militant secularists are almost certainly afraid of is what is coming to pass: courage is breeding courage. When other people might have cowered in fear, Kim took a stand. And today, millions of Americans stand with her and for the religious freedom upon which our nation was founded," FRC President Tony Perkins said in a statement about Davis at the time.