Kim Jong Un Tells North Korean Army to Prepare for War With America and 'Tear to Pieces the Stars and Stripes'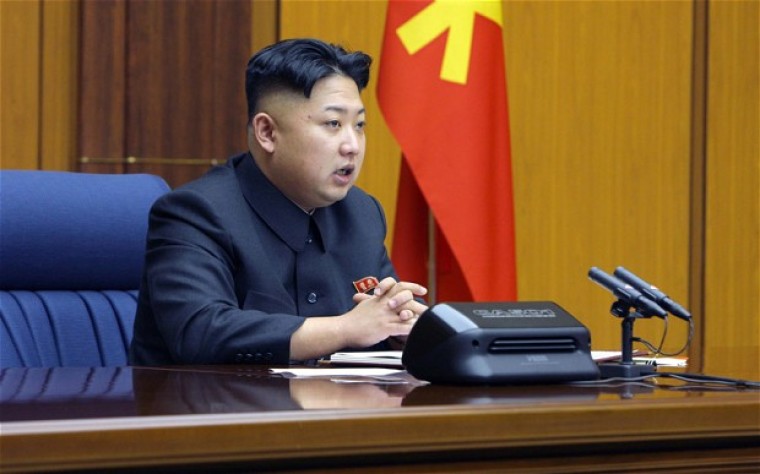 Kim Jong Un has reportedly told the North Korean army to prepare for a "great war" with America and to "tear to pieces the stars and stripes," in response to military drills set to be carried out by the U.S. and South Korea.
"The prevailing situation where a great war for national reunification is at hand requires all the KPA (Korean People's Army) units to become (elite) Guard Units fully prepared for war politically and ideologically, in military technique and materially," the state Korean Central News Agency quotes Kim as saying.
AFP pointed out that on Friday the U.S. and South Korea conducted a joint naval drill, in preparation for much larger military exercises to come, in which 200,000 Korean and 3,700 U.S. troops will take part.
North Korea has made hostile threats against the U.S. on a number of occasions, often in response to military drills, which it sees as a threat to its national security. Both the South Korean and U.S. governments have claimed that the exercises are focused only on defense.
In January, South Korean ministry of defense officials warned that North Korea is not far from obtaining the technology required to miniaturize nuclear warheads and mount them on ballistic missiles.
The ministry said in its report that North Korea is "presumed to have (missile) capabilities that could threaten the U.S. mainland, having fired off long-range missiles five times."
The report added that North Korean researchers have obtained more than 88 pounds of weapons-grade plutonium. Although Kim's government has received several sanctions throughout the years for its research into nuclear capabilities, it has continued carrying out such tests.
Kim's government stated in December that's ready for a confrontation with the U.S., following accusations that it was responsible for the hack on Sony Pictures that forced the film studio to cancel the release of "The Interview."
"The army and people of the DPRK are fully ready to stand in confrontation with the U.S. in all war spaces including cyber warfare space to blow up those citadels," the Policy Department of the National Defense Commission of the DPRK said at the time.
"Our toughest counteraction will be boldly taken against the White House, the Pentagon and the whole U.S. mainland, the cesspool of terrorism, by far surpassing the 'symmetric counteraction' declared by [President Barack] Obama."