Kirk Franklin Is Defending and Commending Fellow Gospel Star Erica Campbell's New 'Trap Gospel' Sound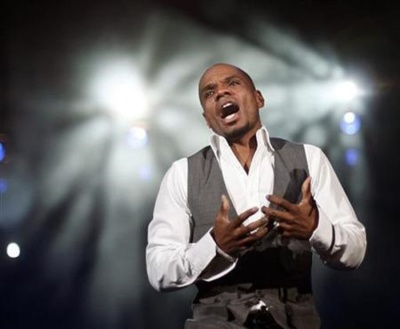 Kirk Franklin is defending his fellow gospel singer Erica Campbell for her decision to create a new sound called "trap gospel."
Campbell, the Mary Mary singer who has ventured into solo music territory, released an album remixing of much of her debut music with Help 2.0 last month. One of the singles she has been pushing is called "I Luh God," which blends God centered lyrics over trap music production.
While some may be weary of the new sound fusing gospel and trap music, veteran gospel music artist, writer and producer Kirk Franklin came to Campbell's defense when appearing on NPR recently.
"I just commend her efforts, man. I think that trying to make a message that's old as many millennia and try to make it culturally relevant, it's always a tough job," he said. "I always try to remember the heart of the person doing it and I am very, very good friends with Erica. She has a great heart for God, she has a great heart for ministry and I just believe that the heart always wins."
Trap rap "is defined by the content of its lyrics, but it also comes with a trademark sound: booming 808-style sub-bass kick drums, twitchy sixty-fourth-note hi-hats, dive-­bombing tom fills, and chilly cinematic strings," according to a Chicago Reader report.
Franklin fused hip-hop and gospel music with his 90s hit "Stomp" featuring Salt-N-Pepa star Cheryl "Salt" James, and he spoke to NPR about some backlash he received as a result.
"It's very hard when you hear churches talk about you," Franklin told NPR. "Some people start to question your heart, and when some people start to question your motives, it could be very hard for you because you're in your early 20s and you don't really understand what all the fuss is about, because you're doing just what's real to you."
Franklin has garnered numerous Grammys, GMA Dove Awards and Stellar Awards. The musician has mastered the art of creating quality gospel music for two decades and insisted that the most important quality in the music is sincerity.
"It should reflect wherever we are and our personal spiritual growth with God. If that's not our top priority, then our artform is going to be very shallow," Franklin previously told The Christian Post. "It should not be just for the sole purpose of the artform itself...if it's that, we'll suffer. We have to make sure people can feel the sincerity of our own testimony and our own journey so they know this is something that is really real for us."
Franklin previously told The Christian Post that he believes gospel music should be in tune with the culture of the world instead of focusing solely on the church.
"People don't live at church, they live in the real world. So music has to reflect that how people live, what they're doing as they go through their trials in life," he told CP. "So I just hope and pray that we're always able to tap into that and be that voice for people."