Korn Guitarist Brian 'Head' Welch on Why He Rejoined Band After Accepting Jesus Christ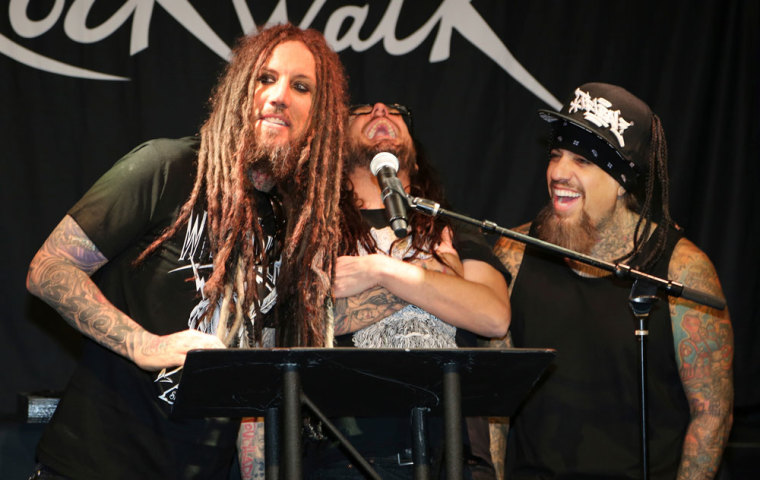 Brian "Head" Welch, co-founder of the nu metal band Korn who left the group in 2005 after becoming a Christian amid his struggle with drug addiction, rejoined the band eight years later. In a media interview, the New York Times bestselling author explains why he did that.
"Having gotten into Christianity, gotten clean and turned your life around, did you have reservations about diving back into the rock and roll lifestyle with Korn?" The Arizona Republic asked the Korn guitarist, who is ranked among Guitar World's 100 Greatest Heavy Metal Guitarists of All Time, in a recent lengthy, candid interview.
"If it was a crazy party still, I would not have gone back. I mean, I'm around parties and we go to bars sometimes. I hang out with my friends and some of them drink mildly, but if there was, like, cocaine and bong rips thrown in my face every day, I couldn't do it," said Welch, who is now returning to Phoenix on a co-headlining tour with horror-rock legend Rob Zombie.
He said he doesn't want to be around such an atmosphere. "So yeah, I was nervous. But once I met with the guys and reconciled with them, I was, like, 'Wow, they don't care about that anymore.' It was a been-there-done-that type of thing. Some of them have young kids. They're still poppin' out new kids, so it's a different atmosphere. It's not, like, 'Let's get wasted and send our crew guys out to get, like, 50 girls backstage.' It's different now that people care about their families and want their marriages to actually not end in divorce. They want to be good dads. They aren't killing themselves anymore. And it's been really cool. Everyone is focused on the music and the fans and just keeping this band together."
In his first book, Save Me from Myself: How I Found God, Quit Korn, Kicked Drugs, and Lived to Tell My Story, Welch wrote about his struggles, his secret addiction to methamphetamines and also his miraculous salvation through Jesus Christ.
About how he reconciled with band members, he said in the interview that it happened after he met the band's co-founder and guitarist James Shaffer.
"My daughter (Jennea) turned into a teenager and started liking rock music. She liked Evanescence and Staind and Chevelle and all these bands," Welch said. "So, I ended up taking her to a show where all three of those bands were playing, and Korn ended up playing last that night. So I was just gonna go and do my thing, go out to the soundboard and watch Korn out there. But they found out I was there and asked me to come and hang out. So I went and I saw (James) "Munky" (Shaffer) for the first time in eight years and we just conversated. He looked at me and my daughter and it kind of made sense, everything that happened."
He continued, "So talking to him and seeing how clear he was, it was a meant-to-be type thing, the right place at the right time. Then they asked me to go do a meet and greet with them, to go sign autographs for fans. And I was just like, 'Man, that's weird. That was, like, a lifetime ago.' So I did that. Then, they asked me to come onstage and play 'Blind' with them and I said sure. I went up there and it was so intense. All the bands I mentioned earlier and even more were all on the side of the stage watching. A lot of people were in tears. At first I resisted it. I was like, nah, I'm doing my own thing. I don't want to get on that crazy train again. The Korn train never stops touring, and I just didn't want to do that. But the next thing you know, I started thinking about it more. Me and Munky were in communication on the phone and it just worked out."
Welch said his relationship with other band members is now "so much stronger."
In his book, released in 2007, he explained the evolution of Korn and how his life ended up in so much pain. In an interview with The Christian Post that year, he said he was able to kick his drug habit only through God, which he said proved the Lord's true existence to him.
"I got hooked on methamphetamines the last two years I was in Korn, and I did meth everyday," explained the guitarist. "I wanted to quit [but] I couldn't quit. I tried to quit. I went to rehab, and I just couldn't quit.
"[One night I prayed] 'Lord, if You're real … please take these drugs from me. Make them go away. Reveal Yourself to me and all that.' I think in a week or two, I got the urge to throw away all my drugs with the help of a friend. I was done."
In another interview with CP, in 2013, Welch said, "All I know is that I was chasing all that stuff and it left me empty. And I was a complete empty shell – just totally like nothing inside. I had everything. I had the money; there was girls everywhere, all the drugs – pills, doctors' prescriptions, illegal drugs, everything. And it was just empty, so empty. And as soon as I went to church, I felt the love from Jesus. That's when I was fully satisfied. And I was totally done with everything in the world because I was satisfied inside, and I got filled up."