Korn Guitarist Brian 'Head' Welch Tattoos God in Hebrew on Eyelid; Apologizes to Mom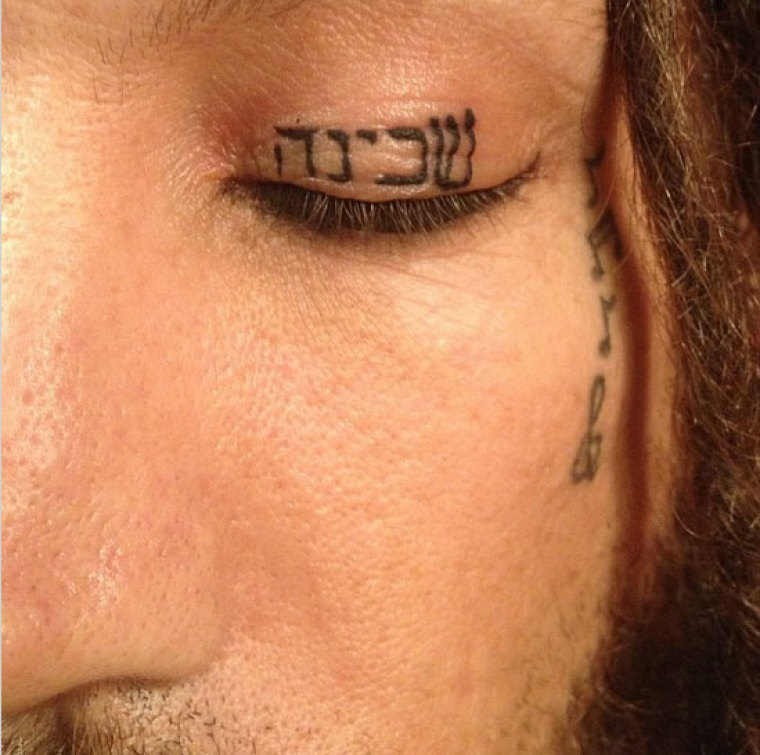 Brian "Head" Welch, co-founder of the nu metal band Korn, tattooed Hebrew words relating to God to express his Christian faith on his eyelid and shared a photo of it on Friday online.
"Dear mom and dad, You're really not gonna like this tattoo. My apologies," wrote Welch. The tattoo means God's presence on Earth, according to TMZ.
Welch is outspoken about his Christian faith. His biography in 2007, Save Me From Myself: How I Found God, Quit Korn, Kicked Drugs, and Lived to Tell My Story, shared his conversion story and was a New York Times bestseller.
"I got hooked on methamphetamines the last two years I was in Korn, and I did meth every day," Welch told The Christian Post in a 2007 interview about his book. "I wanted to quit [but] I couldn't quit. I tried to quit. I went to rehab, and I just couldn't quit."
"[One night I prayed] 'Lord, if You're real … please take these drugs from me. Make them go away. Reveal Yourself to me and all that.' I think in a week or two, I got the urge to throw away all the drugs with the help of a friend. I was done."
The Korn guitarist, who is ranked among Guitar World's 100 Greatest Heavy Metal Guitarists of All Time, also shared his testimony with "I Am Second," a movement that seeks to share testimonies of celebrities and ordinary people about their hope and transformation through believing in Jesus Christ. Welch's testimony is the most viewed I am Second video to date. More than 20 million people having viewed the I Am Second movement's films as a whole.
During a September interview in Dallas with The Christian Post, Welch said, "All I know is that I was chasing all that stuff (fame, sex, drugs) and it left me empty. And I was a complete empty shell – just totally like nothing inside. I had everything. I had the money; there were girls everywhere, all the drugs – pills, doctors' prescriptions, illegal drugs, everything. And it was just empty, so empty. And as soon as I went to church, I felt the love from Jesus. That's when I was fully satisfied. And I was totally done with everything in the world because I was satisfied inside, and I got filled up."
Welch has his favorite Bible verse, Matthew 11:28, tattooed on the right side of his neck. "Come to me all who are weary and I will give you rest," he cited at the Dallas I Am Second event. "And that's Jesus' words. And that was my scripture, it was popping up everywhere. I was so lost and He gave me rest for my soul; it's simple."
Welch had announced during a 2005 concert in Bakersfield, Calif., his hometown, that he had found God and was leaving the band, which has won multiple Grammy Awards and had several of its albums go platinum. But then in 2013, he officially announced that he was rejoining the band. He says there is no fear of being suck back into the rock 'n' roll lifestyle even though he's back with Korn because all the band members are family men now and their children and spouses are backstage.
"Those (the fans) are God's people," Welch told author Eric Metaxas during the "I am Second Live" in Dallas event in mid-September to commemorate the 100th "I Am Second" film. And Welch said God told him, "I want them (the fans)."