Kristen Stewart 'Fed Up' With Robert Pattinson?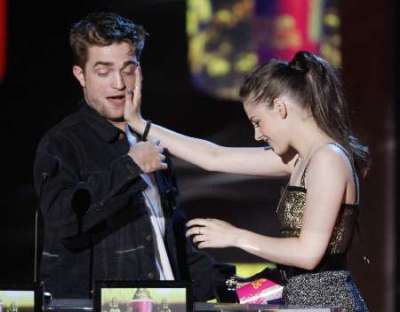 Kristen Stewart and Robert Pattinson were reportedly embroiled in a dispute recently and a new report claims to have uncovered why.
The "Twilight" stars reconciled in November following a cheating scandal that threatened to tear them apart for good. Stewart, 23, was reportedly spotted arguing with Pattinson, 26, via phone Monday- allegedly because she feels neglected by the British actor.
"Rob is not treating Kristen like a princess and she's getting fed up with it," a source allegedly told HollywoodLife.com.
In July, Stewart issued a public apology for cheating on Pattinson with her 42-year-old "Snow White and The Huntsman" director, Rupert Sanders. The source claims that while they were able to move forward, their relationship has never been the same.
"He's not as into it as he was before the cheating— not giving her special treatment like he used to. She feels unloved and that's why they fought," the insider explained in the unconfirmed report.
A paparazzi photographer said the actress appeared to be distressed during what he alleged looked like an intense phone conversation. May 13 also happens to be Pattinson's birthday.
"Kristen was pacing back-and-forth in her friend's apartment, smoking. She looked really upset, talking on the phone for almost an hour— I'm guessing she was talking to Rob," the unnamed photographer told X17 Online.
"She was really animated, like she was trying to explain something. She was getting frustrated and seemed very emotional," he added.
Fans are now questioning the possibility of a split, with an insider saying they aren't broken up, just having some problems. The pair first began dating in 2008.
"They're not split, but they're holding on by a string," the source said.
The couple split in July after Stewart's cheating confession, although they eventually reconciled.
"I'm deeply sorry for the hurt and embarrassment I've caused to those close to me and everyone this has affected," Stewart said in a public statement. "This momentary indiscretion has jeopardized the most important thing in my life, the person I love and respect the most. Rob. I love him, I love him, I'm so sorry."