Landlords Demand Rent on Flooded Houston Homes, Devastated Families Say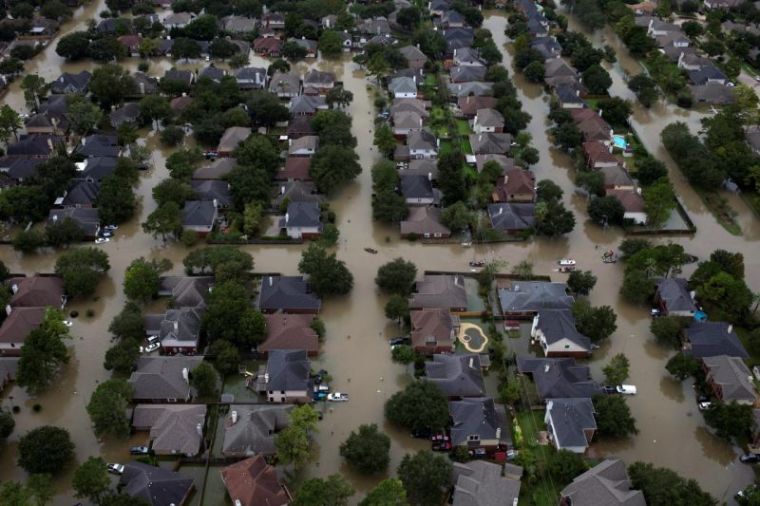 Some Houston-area families whose lives have been upended by historic flooding from Tropical Storm Harvey say their landlords are still demanding they pay rent on homes in which they are unable to live.
"Our landlords say we have to pay rent and late fees and every day it is going up," Rocio Fuentes told The Guardian. "We are paying rent for somewhere we can't live in. They said 'you aren't the only ones in this situation,' but what are we supposed to do? We don't have any money. We don't have anything."
Harvey walloped Texas just a month after Fuentes moved into a new apartment with her five children and husband, Jaime, in Pasadena. They are now crammed into her sister's apartment after a daring rescue by her mother during the storm. Jaime is unable to earn a living from construction because the flood has put a damper on his line of work.
Despite the devastation caused by the flooding, however, Texas law requires that rent must still be paid on damaged properties unless they have been found to be completely uninhabitable.
If a rental property is deemed "totally unusable" due to an external disaster, the landlord or tenant can terminate the lease through written notice under the Texas property code. If the property is "partially unusable" however, a tenant may only get a reduction in rent through a county or district court.
Houston's housing department told The Guardian that they "are aware these problems exist" but noted that state law deals with the situation.
Isela Bezada, an unemployed woman who lived with 10 family members in a Houston house, said she was evicted by her landlord after Harvey hit.
"There are a lot of property owners who aren't conscious of what has gone on; they are being rude and kicking people out," she said.
"There are people who have been hit really badly by these floods," Bezada added. "We are all human beings. We all deserve help."
Uncertainty and desperation have hit some people who have lost everything to Harvey-related flooding, putting a strain on places like the St. Juan Diego Catholic Church in Pasadena. Hundreds of people have flocked to a donation center run by the church that provides food and clothing to those in need.
"A lot of the people here have lost everything," Ernest Paredes, an organizer of the center told The Guardian. "I don't know what the city is doing but there is a concern that people living in apartments are still being charged and that needs to be looked into. If they are getting help, they shouldn't be charged."
The Federal Emergency Management Agency is also quickly running out of disaster relief funding, NBC News reported Thursday. And with Hurricane Irma slamming into Puerto Rico and the U.S. Virgin Islands with Florida also its path, some officials are concerned.
"FEMA is scheduled to run out of money by Friday, Sept. 8, just two days before Hurricane Irma is expected to hit Florida," Florida Sens. Bill Nelson and Marco Rubio said in a joint statement cited by NBC News. "Unfortunately, the current disaster relief package Congress is considering for Hurricane Harvey doesn't account for the additional costs FEMA will likely incur as a result of Hurricane Irma."
FEMA's disaster relief fund dropped by $2.14 billion last Thursday to $1.01 billion as of Tuesday, NBC News said.
In Texas more than half a million people have applied to FEMA for help, The Guardian said. Some $33.6 million has already been approved for housing assistance including rent subsidies. Approximately 15,000 survivors are being housed in hotels and motels. A contractor has also been asked by FEMA to produce at least 4,500 pre-fabricated houses for displaced families.
Erica Hall, who was rescued along with her three young children by the Coast Guard after her west Houston home flooded, is now in a Red Cross-run shelter and is looking forward to any housing assistance she can get.
"I know there's a lot of other people affected besides me and my family but I just wish the process could move a little faster so we can get on with our lives," she said.
"It really doesn't matter where I go, as long as it's stable. But maybe not on the first floor. The second floor, somewhere off the ground, would be good," she said.