Laura Bush Makes Special Guest Appearance on Last Season of 'Fixer Upper' (Watch Here)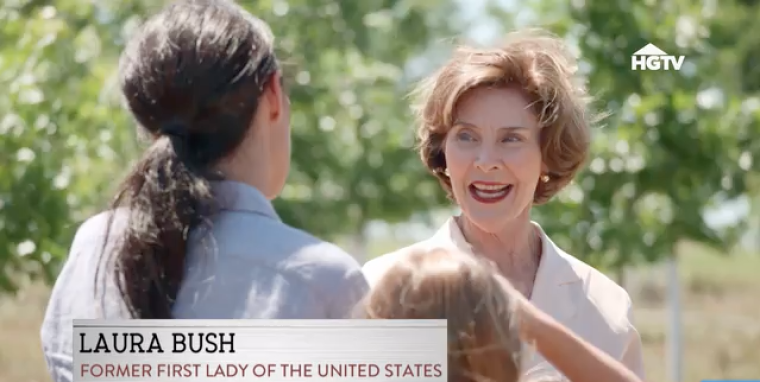 Former first lady Laura Bush teamed up with popular Christian couple Chip and Joanna Gaines on their hit HGTV home renovations show, "Fixer Upper."
The popular FLOTUS made a special appearance on Tuesday's episode of "Fixer Upper" to help Joanna select a tree for the house of their mutual friend, Jimmy Don Holmes.
Joanna and her daughters visited the famous Bush family tree farm, located at the Bush ranch. Holmes is regularly featured on "Fixer Upper" and has a close relationship with the Bush family also.
"Jimmy Don was our iron guy before he became a famous iron guy," Bush, 71, told Joanna, 39, explaining the items that Holmes had created for them throughout the years.
"They actually have a tree farm on the property and they sell mostly to commercial projects," Gaines said during the episode, standing on the Bush family compound. "They're basically neighbors, so I thought it would be fun to incorporate something from their ranch to Jimmy Don's."
As they walked through the forest of trees, the former first lady gave Joanna and the girls a little tour of some of the 16,000 trees they have. "They're all the different trees that are native here," she explained.
Eventually Joanna lets her daughters choose a tree from the Crawford, Texas, ranch. Bush co-signed their choice and that ended the segment. Joanna concluded by saying that she believes the Holmes' family would be impacted more by the tree than the renovated mountain-style home they were working on because of the sentimental value behind it.
"I think he's gonna love the renovation," Gaines said of Holmes' son, "but I have a feeling he's gonna love the tree more than the renovation."
Before the episode aired, Bush revealed that her daughter, Jenna Bush Hager, was a big fan of the show.
"Calling all #FixerUpper fans, especially you @JennaBushHager! Tune in to tonight's show as @joannagaines joins me on our tree farm in Crawford to select a beautiful red oak for a lucky family's new yard," she tweeted.
Bush is not the only celebrity the Gaines will have on the show this season. On the Jan. 30, former NFL player turned Minor League Baseball Player Tim Tebow will also make a cameo. Chip and Joanna will reportedly work with the Tim Tebow Foundation to help make a wheelchair-accessible house for the Copp Family.
The Gaines shocked the world in September 2017 by announcing that they were ending "Fixer Upper" after five very successful seasons. However, with all the surprise guests, it's evident the handy couple will be going out with a bang.