Lauren Daigle talks Kanye West, Billie Eilish and missing being on tour having human interactions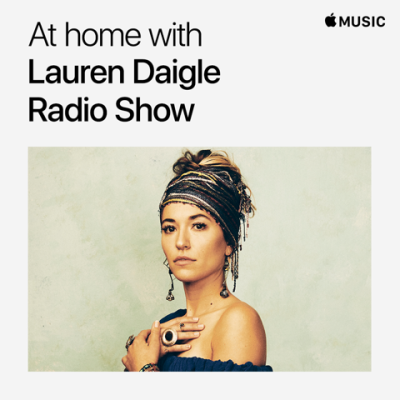 Two-time Grammy Award-winning Christian singer Lauren Daigle said she's missed performing in front of people and having interactions with fans during the lockdowns that postponed her tour dates. 
In an interview with Zane Lowe on Apple Music, Daigle ran through her 'At Home With' playlist and explained why, as an artist, she thrives on connecting with people through her music and discussed Kanye West's newfound faith and singer Billie Eilish.
"I miss it being in front of people," the 28-year old said about missing being on the road.  "You need human interaction to see the way it lands on someone's soul. You need that experience as an artist."
Daigle will be heading back on the road in 2021 and is missing tour life.
"You create, and you incubate, and you feel these rhythms and melodies and lyrics, and then you release them and you want that exchange with people," she said.
In the meantime, the singer told Lowe she has been in the studio creating new music. 
"I love the stage, but I could probably live in the studio forever. … There's something about taking your breath and pushing air through your lungs, and something that is intrinsic, something that in your mind becomes real. It's like how much air you put in it becomes a sound that the world might hear. That's a wild process," Daigle explained.
Daigle shared her interview with Lowe on Instagram where she revealed that her chat with Lowe helped lift her spirit.  
"This interview was an honor to be a part of. So grateful for the chance to speak with @zanelowe again. I always leave inspired after chatting with him. I was having a rough week, trying to keep my eyes on the glass being half full. I looked around and saw lots of lemons, but the joy in this interview gave me the ingredients to make lemonade," she wrote. "Simply chatting about music reminds me of what a deep gift we all receive when we experience rhythm, rhyme, melody, and truth."
Daigle kicked off her "At Home" playlist with Kanye West's Sunday Service choir. The rapper is a nominee at the 51st annual Gospel Music Association Dove Awards along with Daigle.
"If Kanye has had this incredible spiritual experience, if God has become real for him … and has allowed him to be released from the things that he was struggling with ... I think if he's found that peace and that solace, that to me is to be celebrated," Daigle said of the artist who is also running for president of the United States. 
Another artist featured on Daigle's list of the songs is Billie Eilish. The popular pop star, Eilish, known for her dark-themed music and style, recently revealed that, as a child, she was very religious despite not being raised to believe in God. But now, she's "neutral" and is "open to every belief pretty much."
Daigle talked to Apple Music about Eilish and her music producer Finneas.
"Her ability to sing is awesome. ... And Finneas, what a hero. That dude is a legend. He is a mastermind, master creator. ... I have a lot of respect for Finneas and the way he does things. And then the way that they are able to capture air over Billie's vocal, I love it," Daigle told Lowe.
Daigle has been making public appearances on mainstream platforms such as Apple Music since 2017 when she made Billboard history with her single "You Say," which remained at No. 1 on Billboard's Hot Christian Songs longer than any other song in Christian chart history. 
The singer told The Christian Post in an interview last year that her goal with Look Up Child was not to make it "mainstream versus Christian." Rather, she was looking to offer the people the "purest version of me."
Daigle's complete interview can be heard on apple.co/zane.