Lebanon Rockets Hit Israel, as Gaza Conflict Death Toll Reaches 100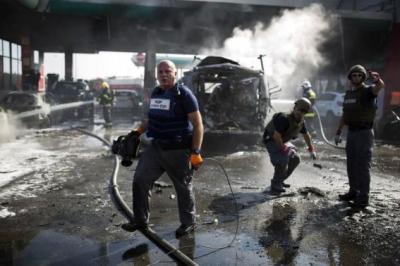 Rockets fired from Lebanon have hit Israel territory near the northern town of Metula, near the border. Meanwhile, the death toll from the conflict with Gaza has reached over 100 on Friday.
According to CNN, no damage or injuries have been reported from the Lebanon rockets, and it is unclear who exactly launched them. An Israel Defense Forces spokesman said that Israel believes the Lebanese government to be responsible for the attack.
Meanwhile, airstrikes exchanged by Israeli forces and militant group Hamas have left at least 100 dead in Gaza since the long-standing conflict turned violent again two weeks ago.
While the Israeli air defense system has been able to intercept nearly all Hamas rockets, airstrikes by Israel have led to nearly 100 deaths, including 22 children and 20 women, a spokesman for Gaza's Ministry of Health said.
"We are utilizing that force to enable us to create a substantial force around Gaza, that if it is required, we'll be able to mobilize as soon as possible," Israel Defense Forces spokesman Peter Lerner said.
Gaza residents are reportedly concerned over an Israeli ground assault, after Israel expanded its forces by calling close to 30,000 reservists to its units.
Reuters noted that if Israel launches a ground invasion, it would be the first of its kind since the three-week war in the winter of 2008-09, when 1,400 Palestinians and 13 Israelis were killed.
"We have long days of fighting ahead of us," Defense Minister Moshe Yaalon said on Thursday.
U.S. President Barack Obama has spoken with Israeli Prime Minister Benjamin Netanyahu by telephone, sharing that America is willing to help to negotiate a ceasefire.
A spokeswoman for U.S. Secretary of State John Kerry added: "Nobody wants to see a ground invasion."
 Hamas vowed revenge on Israel on Monday after airstrikes on Gaza killed seven of its members.
"The enemy will pay a tremendous price," the group said, after Israel noted that it has carried out airstrikes on "14 terror sites," including "concealed rocket launchers" in Gaza.
Earlier in July, three kidnapped Israeli teens, one with dual-U.S. citizenship, were found killed in the West Bank. The discovery drew outrage from Israel, with Israeli Prime Minister Benjamin Netanyahu promising that Hamas "will pay" for the murders.
A 16-year-old Palestinian-American from east Jerusalem was abducted and killed only days later in what is believed by authorities to be a revenge slaying. Six Jewish suspects were arrested in Israel on Sunday in connection to the murder.
Israel has said that its mission is to end cross-border rocket attacks that intensified last month after its forces arrested hundreds of Hamas activists.
"We are in the midst of an assault and we are prepared to expand it as much as is required, to wherever is required, with whatever force will be required and for as long as will be required," Israel's military commander, Lieutenant-General Benny Gantz, told reporters.
In a separate televised statement on Thursday, Netanyahu said: "So far the battle is progressing as planned, but we can expect further stages in future. Up to now, we have hit Hamas and the terror organizations hard and as the battle continues we will increase strikes at them."
Hamas said in its own video statement on Thursday that it is ready for an extended confrontation. "We assure the enemy that we have prepared ourselves for a very long battle, not for a week or 10 days as described by some of the enemy's commanders, but for very long weeks," a spokesperson for the group said.
"The world will see the skulls of your soldiers being stepped on by Gaza's children with their bare feet."
U.N. Secretary General Ban Ki-moon has responded to the escalating conflict by reaching out to regional leaders and calling for an end to the violence.
"It is imperative not only to restore calm today, but to establish a political horizon for tomorrow," he said. "Without the prospect of an end to the conflict, the sides will grow ever more polarized."