Lech Walesa Joins Poland Pro-Democracy Protests; President to Veto Controversial Laws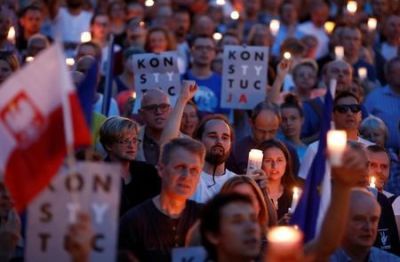 After Poland's former president and democracy icon Lech Walesa joined the ongoing protests over the governing party's plan to bring Poland's judicial system under its political control, President Andrzej Duda said he will block the proposed legislation.
During the weekend, 1983 Nobel Peace Prize winner Walesa spoke at a protest in Gdansk, his home city, asking young people to fight for the independence of judiciary and the Supreme Court, according to The Associated Press.
The populist Law and Justice party won parliamentary elections in 2015 with a thin majority. Party leader Jaroslaw Kaczynski claims the amendment bills are required to reform a justice system that remains unchanged since the collapse of communism in the country in 1989.
Many international legal experts as well as the European Union have warned against the bills, saying they would lead to authoritarianism.
It was in Gdansk where Walesa led protests in the 1980s against the communist regime which resulted in the arrival of democracy in the country.
"You must use all means to take back what we achieved for you," Walesa told the crowd.
After Walesa joined the protests, thousands of opponents held rallies also in Warsaw, Krakow and other cities.
"We are all in danger. Every citizen is in danger now," the newswire quoted Tomasz Gromadka, a protester in front of the home of Kaczynski, as saying. "Because now they are taking the courts, then they will take the media, they will take everything. But we still have the streets. This is our power. I think we should do whatever we can."
President Duda said Monday he will reject the bills.
"I have decided that I will send back to Sejm (the lower house of parliament), which means I will veto the bill on the supreme court, as well as the one about the National Council of the Judiciary," he said, according to The Guardian.
Kamila Gasiuk-Pihowicz, a leading member of the opposition party Modern, called it an "act of courage."
"What we had was not a reform, but appropriation of the courts. I congratulate all Poles, this is a great success," said Katarzyna Lubnauer, head of the parliamentary caucus of the opposition party Nowoczesna.
Duda's spokesman, Krzysztof Lapinski, had earlier stated taht the president knows there are some flaws in the new law on the Supreme Court.
The European Commission had threatened to strip Poland of its EU voting rights if it went ahead with the changes.