Lecrae and Andy Mineo Blow the Doors Off NYC Theater With Anomaly 2.0 Tour (Review)
Lecrae and Andy Mineo Blow the Doors Off NYC Theater With Anomaly 2.0 Tour (Review)
NEW YORK — Lecrae's ascension to main stream hip-hop superstardom seems to be moving at the speed of light as his recent New York City stop on the Anomaly 2.0 tour was nothing less than captivating.
The Grammy-award winning emcee has stepped up his live show in ways that other Christian hip-hop artists will aspire to after seeing Anomaly 2.0.
Instead of simply belting out a bunch of songs, Lecrae created a story board that led to a salvation experience and conclusion. This not only added to the entertainment factor, but addressed his critics who feel he has become too "Hollywood" since his 2012 Gravity album.
Anomaly 2.0 began with DJ Promote who put on a mini-show that kept the crowd busy while they awaited Reach Records artist Andy Mineo, who hit the stage like a true Lecrae protégé and had a lot of love and support from the crowd, being that he's a native New Yorker.
He also included a story board video in his performances that worked around the songs from his Neverland EP and Heroes For Sale album. As someone who's seen Mineo perform, and even opened for him back in 2011, the Reach emcee has come a long way with a set that certainly catered to a live audience and had them chanting "Andy" "Andy" after each set. There was a blip as the second video in his set never played, but no one noticed since his energy remained unaffected. He also had remarkable breath control hitting every lyric while rapping fast. He certainly has a promising future as both a performer and artist overall, as he proved why he's a buzzworthy rapper that rubs elbows with legendary hip-hop radio personalities like Sway Calloway.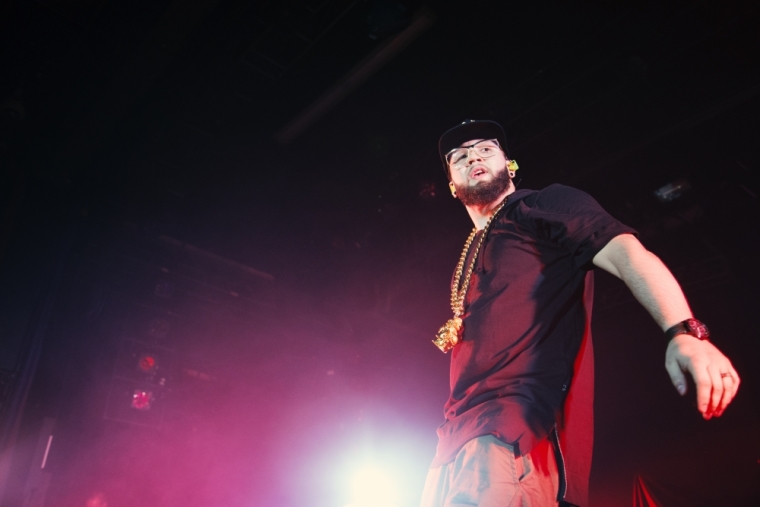 Mineo performed a fairly long set that almost made him seem like a co-headliner instead of an opener. Once the smoke cleared and sets changed, Lecrae exploded onto the stage with a Martin Luther King Jr.-esque rendition of his latest single "Welcome to America" complete with a pulpit and video, and began telling his story.
Lecrae wasn't as clear as Andy on the mic, but his wardrobe and overall stage presence displayed a future superstar in the making. He exuded confidence and focus while working through a set that lead to a salvation moment with his song "Give In." He also took time mid-set to allow those in attendance to sign up to take care of a child through Compassion International.
When Lecrae returned he was performing in the back of the venue with smoke machines. This point of the show was a bit light hearted and he rapped some of his older songs, but not many. That leads me to my only gripe with the Anomaly 2.0 leg, which is the lack of classic Lecrae material. He chose to push the songs on his latest album and steered clear of making a greatest hits type of set. Most artists always include their older hits, but Lecrae chose a different strategy.
Lecrae ended the night perfectly by bringing Andy Mineo back out for a rendition of "Say I Won't," which the crowd chanted for before it actually happened. The two complimented each other nicely and both gave off an energy that made you want to listen to all the songs they performed again after you left.
The Anomaly 2.0 tour proved that Lecrae is here to stay as an artist in general. He can no longer be boxed into being a religious artist as his music can cater to anyone. But his Gospel message was still strong with the salvation message being included in the middle and communicated through the music and storyboard. He certainly proved that he is an anomaly, as no one before him has taken faith-based hip-hop to this level.