Lecrae Leads Thousands at Togetehr 2016 Event to Pray Against Injustice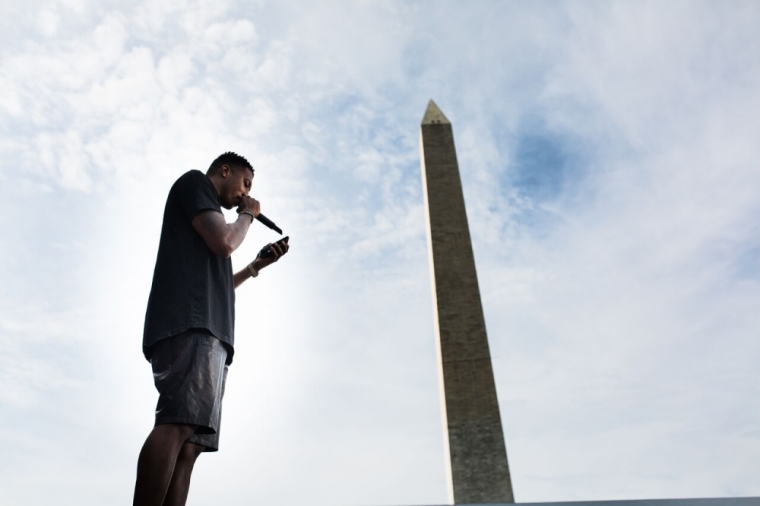 WASHINGTON – Popular emcee and Reach Records founder Lecrae hit the stage early Saturday morning at Together 2016, the millennial-focused prayer and worship gathering held at the National Mall, and led an impassioned prayer that called for the people of God to come together and cease being passive towards injustice.
In his prayer, Lecrae started off by reading Isaiah 58 from verses 1 through 8. Towards the end of his reading, which emphasized fasting, the Texas native began to recite the scriptures below with great conviction.
"Is not this the fast that I choose:
to loose the bonds of wickedness,
to undo the straps of the yoke,
to let the oppressed go free,
and to break every yoke?
Is it not to share your bread with the hungry
and bring the homeless poor into your house;
when you see the naked, to cover him,
and not to hide yourself from your own flesh?
Then shall your light break forth like the dawn,
and your healing shall spring up speedily;
your righteousness shall go before you;
the glory of the LORD shall be your rear guard.
Later in the day before the event ended, Lecrae hit the stage a second time and performed some of his popular hits, but before then he was asked to lead the crowd of almost a half a million people into a time of prayer.
See his prayer in it's entirety below.
"Father God let us not be a nation that gathers together in vain without checking our own hearts, God. Let us not be a nation that gathers together overlooking the oppressed, the poor the needy, overlooking injustice. Let us be a nation that rejects passivity, that leads courageously that accepts responsibility, that moves forward humbly. Let us be followers of the Lord Jesus Christ who rejected passivity. Though the first Adam was passive allowing Eve to take the blame, the second Adam accepted responsibility for that which he did not even do. Lord let us be like Jesus. Let us lead courageously stepping out and standing up for those who can not stand up for themselves. Let us reject passivity accept responsibility and lead courageously. Father God, give us the eyes to see, the ears to hear what your heart beats for, give us humble hearts Lord, open our eyes to see where we do not line up with you. Let us not be so vain because we have assembled (thinking) that it's enough - no, Father God, help us to search our heart, search our heart Lord. Allow us to see internally what we are not seeing, what we are missing. That everyone across the nation feels included in this gathering. Your Word tells us how to pray, it doesn't say go and speak to your father go and speak to my father, it says, 'Our Father'! Its collective we are a family! Let us pray as a family, coming together saying we care about one another. Our desire is to do your will for this nation on earth, as it is in Heaven – in Jesus name."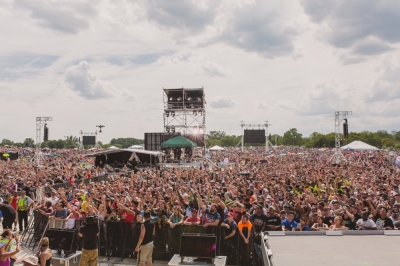 During the free event, various artists and ministers addressed the vast crowd, commissioning the next generation to unite under the banner of Jesus. Lecrae was among many speakers, recording artists, authors and Christian leaders from various backgrounds who ministered through God's Word, prayer and in song at the historic event, which included: Francis Chan, Louie Giglio, Ravi Zacharias, Mark Batterson, Michael W. Smith, Casting Crowns, Lauren Daigle and the rest of his Reach Records' crew - Andy Mineo, Tedashii, KP and Trip Lee, among many others.
Although the event was focused solely on praying for a "reset," many of the speakers also spoke and prayed for the racial crisis in the country.
Lecrae has made it his mission to speak out about racial tension in the nation, including the shooting deaths of Philando Castile and Alton Sterling by police officers in Minnesota and Louisiana, respectively. The rapper took to social media to speak out against the "All Lives Matter" mantra, claiming it's perceived as insensitive by the black community.
In a passionate Instagram post beginning with "#philandocastile," Lecrae maintained that using the phrase all lives matter is offensive, explaining: #AllLivesMatter hashtag is like spitting in the face of black folk. It comes off as extremely selfish and unsympathetic to a mourning person. Not because all lives don't matter. Of course they do. But it's very clear that black lives don't to many in this country. No one goes up to lung cancer patients and says 'Folks with breast cancer matter too!' #AllCancerPatients matter. That's Insensitive."
Lecrae, who has also ventured into the mainstream music industry, has used his platform to also speak out against Christians for their refusal to speak out against injustice.
To find out more about the event visit reset2016.com