Together 2016: Kirk Franklin Says Black and White Churches Must Confess to Failing America (Interview)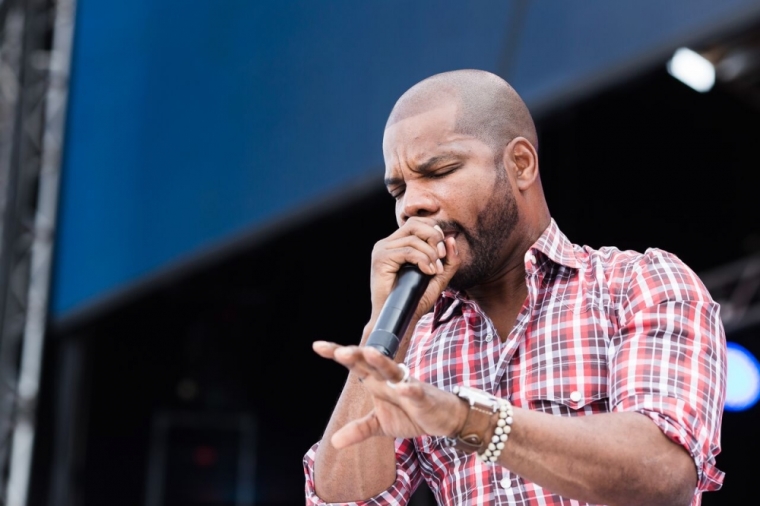 WASHINGTON — Gospel pioneer Kirk Franklin hit the stage early in the morning Saturday at Together 2016, the millennial-focused prayer and worship gathering held at the National Mall, and led with a prayer that reached to the core of those in attendance.
In his prayer, Franklin spoke about the significance of family, and urged women to get their self-worth from God and not what rappers such as yeezy, Jay Z, or Drake say. He then rebuked the temptations that lead couples to divorce and encouraged parents to fight for their marriages. And he ended the prayer by asking God to make a change in him, so that he would be willing to die for his family, to die for the white man, and ultimately to die for every man.
During the free event various artists and ministers addressed the vast crowd, commissioning the next generation to unite under the banner of Jesus.
During a Q&A with media, The Christian Post asked Franklin what he thought could restore hope in America since racial tension is at an all-time high. Franklin welled up with emotion and spoke from the heart.
"We have to confess as a Church where we have failed the culture, 'cause we have failed the culture," Franklin told The Christian Post. "We have to confess — white churches and black churches have to confess that we left a space and the world filled it with its own narrative. It's created it's own narrative because we were absent."
The Losing My Religion worship leader added that while white churches are "very compassionate about abortion, black children felt like that same passion wasn't there for them after they were born."
"There's a lot of social injustice that makes the Church look like a disfigured figure," he continued. "So if there are white Christian leaders that join black Christian leaders and say, 'We dropped the ball, we know we did and we're here to pick it up, to confess our sins to one another to the culture.' Then I believe that gives God freedom — when we confess and it opens up the opportunity to regain credibility with unChristian media, culture and people who have seen us not get it right."
Franklin further explained that the Church loses credibility when it's divided, and called for people of God to admit their wrongs and move forward from there. He also emphasized that the divisions among black and white churches in America discredit a powerful God.
 "I believe it will start with confession," he said.
Franklin was among many speakers, recording artists, authors and Christian leaders from various backgrounds who ministered through God's Word, prayer and in song at the historic event, which included: Francis Chan, Louie Giglio, Ravi Zacharias, Mark Batterson, Michael W. Smith, Casting Crowns, Lauren Daigle and the Reach Records' Lecrae, Andy Mineo, Tedashii, KP and Trip Lee, among many others.
Together 2016 was held from 9 a.m. to 4:30 p.m., and even though organizers were disappointed that the event was forced to shut down well before 9 p.m. by the National Park Service due to soaring temperatures, they told the assembled media they knew God's purpose had been fulfilled as the work of evangelism is being passed on to the next generation of Christian leaders.
To find out more about the event visit reset2016.com
jeannie.law@christianpost.com