LGBT Activist Says Islamic Radicals, Not Bathroom Bills, Waging 'Real War' Against LGBT People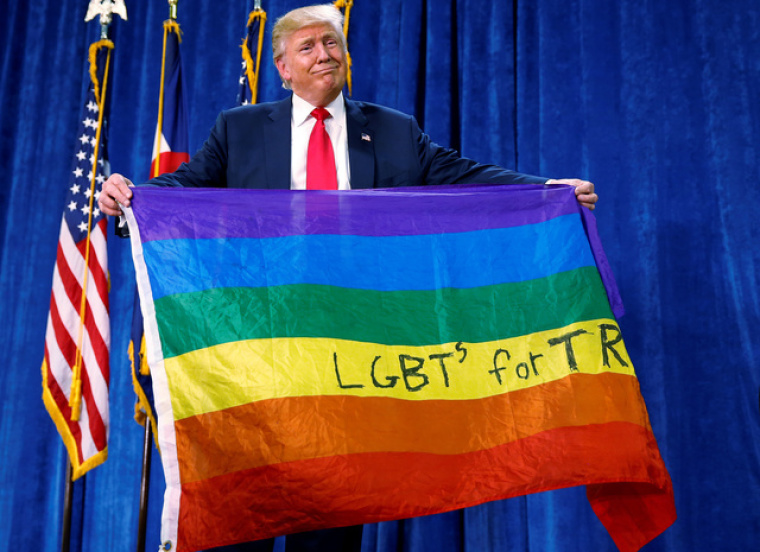 A Republican LGBT activist and supporter of President Donald Trump recently said that LGBT people should be less concerned about the controversial "bathroom bills" in America, and instead focus on the "real war" coming from Islamic radicals.
When Fox News host Tucker Carlson asked Christopher Barron, an organizer of LGBT for Trump, on Friday night about why some gay Americans "advocate for the admission of immigrants who hate gays," Barron responded:
"It absolutely makes no sense, whatsoever."
Barron, who is gay, continued: "None, whatsoever. I mean, look, we've had a conversation in the last couple decades about evolving opinions, about evangelical Christians' opinions about LGBT people, and there's been a lot of legitimate criticism, and I think we've seen a lot of changing of hearts and minds."
"Meanwhile, the left has completely and totally ignored the fact that Islam has a serious problem with gay people," he said. "We're not just talking about, you know, won't let people use the bathrooms that they identify with."
States such as North Carolina have faced battles when it comes to laws on who is allowed to use which bathroom, with many LGBT activists arguing that prohibiting people who were born male but now identify as female to only use the men's bathrooms, and vice versa, is discrimination.
Meanwhile, several reports in Iraq and Syria have exposed the Islamic State terror group's horrific treatment of minorities, with gay people being thrown off rooftops and pelted with rocks in public executions.
Barron alluded to such incidents in his interview with Carlson on Friday.
"You look at the countries in the Middle East and their positions on LGBT people: It's illegal to be gay in Iran. The penalty for being gay in Iran is death," he added.
"This isn't just, 'We don't like you.' This is, we're talking about state-sanctioned murder of someone just for being gay, and the left turns a blind eye to it every single day."
Last year Barron argued on a number of occasions that Trump would be better for LGBT Americans than former Democratic nominee Hillary Clinton.
"Hillary Clinton wants to continue a reckless foreign policy that has made the world less safe for all Americans, including LGBT Americans," he told CNN in June 2015.
"She can find plenty of time to crucify Christians in the U.S. for perceived anti-gay bias, but when we've got ISIS throwing gay people off of buildings, when we have Muslim states that are prescribing the death penalty for people who are gay, I would think this would be something that a friend of the LGBT community would be able to speak out on, and Hillary Clinton finds it unable to do so."
Last week Trump revoked an Obama-era executive order that awarded contracts to companies with LGBT-friendly policies.
Trump signed a new executive order on March 27 that officially revoked Obama's 2014 order, which conservative critics had claimed discriminated against contractors whose leadership may morally object to homosexuality or transgenderism.