Liberals Are Stifling Intellectual Diversity, Campus Audience Decides After Hearing Both Sides of the Argument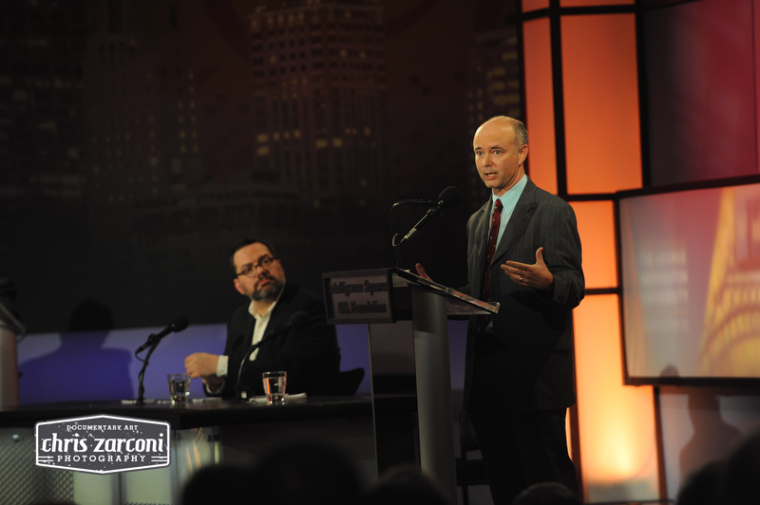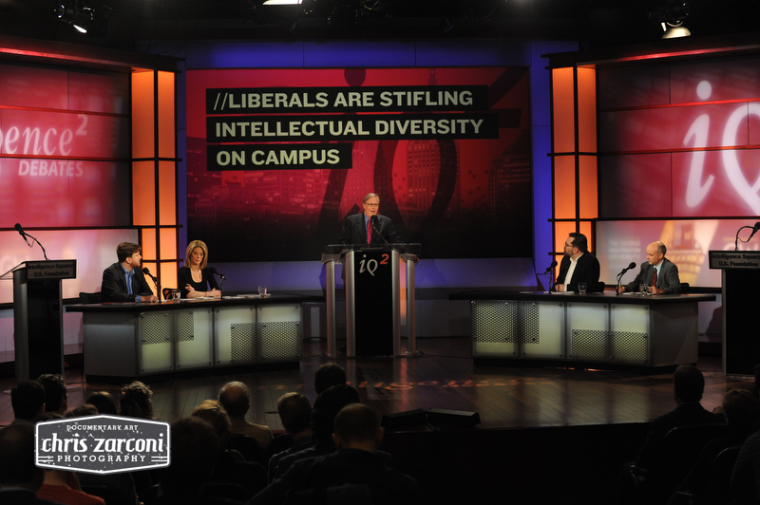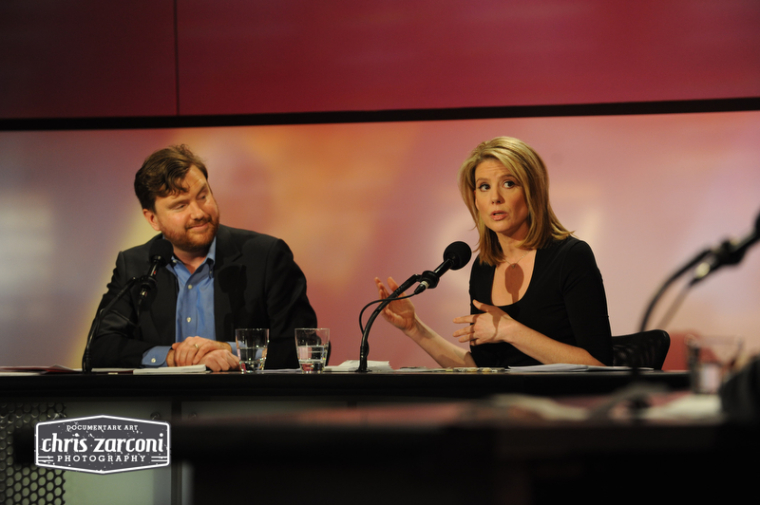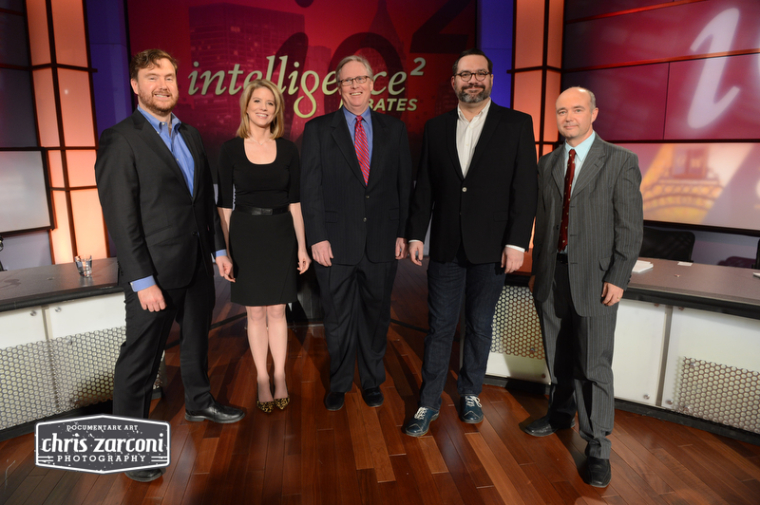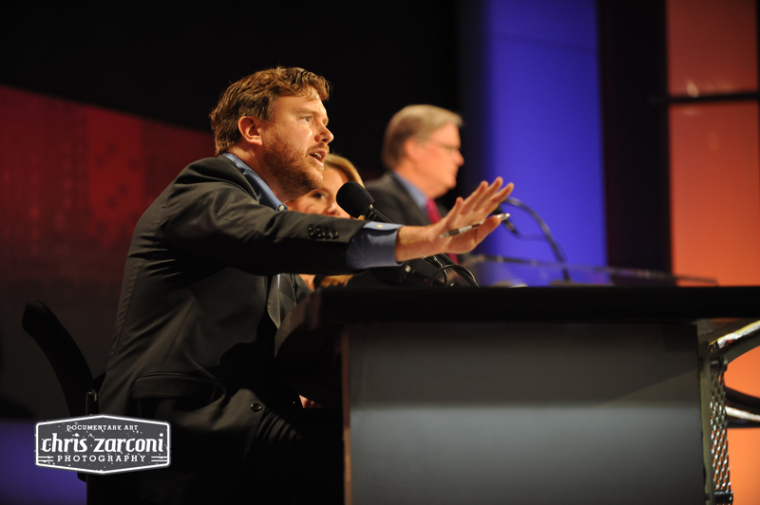 View Photos
WASHINGTON — Before the Intelligence Squared debate held at George Washington University, only one in three audience members said they agreed that liberals are stifling intellectual diversity at colleges and universities, but after hearing both sides of the debate, almost three-fifths of the audience was convinced that liberals are stifling intellectual diversity.
The debate, moderated by John Donvan, an author and correspondent for ABC News, will be aired on National Public Radio stations and is available online.
For the motion, "liberals are stifling intellectual diversity on campus," was Greg Lukianoff, president of Foundation for Individual Rights in Education, and Kirsten Powers, a USA Today columnist and Fox News contributor. Against the motion were Angus Johnston, a historian of student activism, and Jeremy Mayer, associate professor of political science at George Mason University and co-author of Closed Minds? Politics and Ideology in American Universities (2008).
All the debaters agreed that colleges should be a place where students and faculty are free, and encouraged, to share diverse viewpoints, debate their differences, and even say things that might be offensive to some. They also all agreed that a majority of faculty and administrators are liberal and that there have been many incidents in which campus communities have, or have tried, to silence certain voices.
Johnston and Mayer argued that those incidents are not driven by liberal ideology. Rather, administrators who wish to avoid controversy for fear of scaring off donors are the primary cause of the censorship. Administrators are, Mayer said, "small 'c' conservative," "in the sense of being cautious." Mayer supported this claim by pointing out that much of the stifling of speech has been against liberals themselves.
Powers countered that the debate's motion is over whether liberals are stifling intellectual diversity, not whether liberal ideology is stifling intellectual diversity. Powers and Lukianoff also agreed that liberals themselves are often the victims of liberal intolerance, but maintained that it was liberals, driven by a liberal ideological agenda, that led to the stifling of alternative viewpoints.
While the cogent arguments from Lukianoff and Powers likely helped them win the debate, Mayer appeared to hurt his own argument on two occasions.
During his opening remarks he was making the case that colleges were not a hostile place for conservative professors, but then proceeded to belittle conservatives with offensive and inaccurate descriptions. The reason that most professors are liberal, he insinuated, is that conservatives do not want to be professors because they are greedy, anti-intellectual, anti-science, racist and anti-gay. (Coincidentially, The Christian Post reported Monday on a study showing that liberals are just as anti-science as conservatives when scientific results challenge their views.)
Additionally, during an audience Q&A, CP asked about the Christian groups that are being forced off college campuses, such as at Vanderbilt and the entire University of California system. "How is that not stifling diversity, often done in the name of diversity, when Christian groups are being booted off campuses?"
Mayer described what was happening but did not address whether that demonstrated the stifling of intellectual diversity.
"How do we resolve that? I don't know, but I would not be in favor of booting Christian groups off campus. I think that is a violation of free speech as well," he said.
Additionally, if the squelching of alternative viewpoints were caused by administrators who simply wish to avoid controversy, regardless of ideology, why would these administrators create their own controversy by forcing Christian groups off their campuses?
Interestingly, the side arguing for the motion, Lukianoff and Powers, are both liberal while the side arguing against the motion included one Republican. Lukianoff also added that he is an atheist and both he and Powers support same-sex marriage. Powers is a Christian. Mayer mentioned that he is a Republican and also described himself as pro-choice and libertarian-minded.
Anti-conservative hostility on college campuses has been a prominent topic recently among psychologists. Just last month a group of six psychology professors, none of whom are conservative, released a report arguing that the hostility is real and damaging to their discipline.
In her closing remarks Powers said she lived most of her life in the "liberal bubble," but two events helped her to become more open-minded — working for Fox News and becoming a Christian.
She recalled a time when she was still in the liberal bubble. After President George W. Bush nominated Harriet Miers for the Supreme Court, she had argued that Miers did not count as a female appointment because she was conservative and an evangelical Christian.
"I'm embarrassed, frankly, that I ever thought that. It was a prejudiced view, and unfortunately, I wasn't alone in my prejudice," she said.
A 2007 study found that 53 percent of college faculty have cool or negative feelings toward evangelical Christians, she added. And she had recently spoken with a retired Standford professor and Harvard Law School student who felt the need to hide their Evangelical beliefs for fear that they would be ostracized or punished.
"These stories are all too familiar," Powers said. "I hear them regularly, but people are too afraid to speak publicly."
In the vote taken before the debate, 33 percent agreed with the motion, 21 percent disagreed, and 46 percent were undecided. In the vote taken after the debate, 59 percent agreed with the motion, a 26 percentage point gain. Those against the motion only gained 11 percentage points, to 32 percent, while 9 percent remained undecided.
Of those who were undecided before the debate, 23 percent were for the motion and 19 percent were against the motion at the end of the debate. Eight percent moved from being against to for the motion while only 2 percent moved from being for to against the motion.
You can watch a video of the debate at the Intelligence Squared website. For information on the future NPR broadcast of the debate, check out its website here.