Liberty University President 'Deeply Saddened' After Student Shot and Killed by Campus Police; Joshua Hathaway 'Physically Attacked' Officer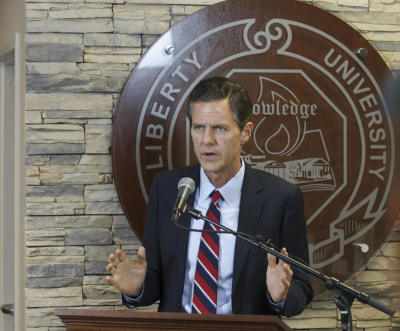 Liberty University President and Chancellor Jerry Falwell Jr. expressed remorse Tuesday after it was revealed by Lynchburg, Va., authorities that a male student had been fatally shot after physically attacking a campus security officer at a women's-only dorm at the evangelical Christian private school.
"We have received reports that a Liberty University Emergency Services Officer was attacked by a male student in the lobby of a women's-only dorm early this morning," reads a late morning statement released by the Liberty University News Service. "The student was shot and killed and the officer was transported to Lynchburg General Hospital for treatment. The Lynchburg Police Department is investigating the matter and Liberty University is cooperating."
The news item relayed a statement from President Falwell, who said, "The Liberty University community is deeply saddened by this tragic event and is prayerfully supporting all those impacted."
The student killed in the early morning confrontation has been identified by the LPD as Joshua Hathaway, a 19-year-old from Lubbock, Texas.
Police say Hathaway got into a fight with the unidentified campus officer around 4 a.m. Tuesday at a women's-only housing facility called Residential Annex II, located less than five miles from Liberty University's main campus. Hathaway reportedly attacked the officer with a sledgehammer in the dorm's lobby. The campus officer shot Hathaway, who was apparently pronounced dead at the scene. The officer was released after being treated at Lynchburg General Hospital.
LPD officer Lt. Dave Gearhart told the News Advance that the incident was isolated and "there is no ongoing concern for the safety of the students or the community."
Liberty University junior Shaquille Cook, who lives across the street from Residential Annex II, told the publication he heard "six or seven gunshots" shortly before 4:15 a.m.
"This is the last place I would ever imagine something like this would happen," said Cook.
Other students, according to WSLS-TV, said they found the entire situation"scary and confusing."
Police officers remained on the scene at Residential Annex II, while the campus remained open and classes went on as scheduled Tuesday.
The Christian Post was not able to speak with a representative of the school by press time.
Liberty University was founded in 1971 as Lynchburg Baptist College, and has since become the largest evangelical Christian university in the world. The Southern Baptist-affiliated school boasts about 12,600 undergrads and 90,000 online students.