Liberty University Student Killed in Officer-Related Shooting
Evangelical Christian School Confirms 'Altercation' at Off-Campus Women's Dorm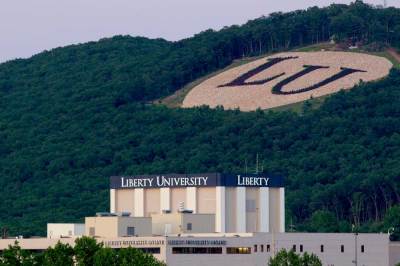 While Virginia media reported Tuesday that a Liberty University student had been killed in an officer-related shooting, the evangelical Christian school founded by Jerry Falwell Sr., revealed that the incident had taken place at a women's-only dorm after a male student and a campus police officer got into an "altercation."
WRIC-TV in Lynchburg, Va., reported that a police officer fatally shot a student early Tuesday morning at the off-campus housing area called Residential Annex II, where about 200 students reside.
As the local television news station reports:
Around 4 a.m. on Nov. 19, a police officer fatally shot a student at the Annex on the 3000 block of Odd Fellows Road. According to Officer Graves of the Lynchburg Police Department, the dorm is located on Liberty University property, but the school's website has designated the Annex as off-campus housing.
Another LPD officer, Lt. Dave Gearhart, told the News Advance that the officer who discharged his weapon and the unidentified dead male student had engaged in a "physical altercation." Lt. Gearhart added that the incident was isolated and "there is no ongoing concern for the safety of the students or the community."
One student who lives across the street from Residential Annex II told the publication he heard "six or seven gunshots" shortly before 4:15 a.m.
The student, Shaquille Cook, said he had a lot of "why" questions after the shooting. "This is the last place I would ever imagine something like this would happen," said the Liberty University junior.
However, Cook insisted that he feels safe at Liberty University, whose trustees earlier this year agreed to allow students and faculty members with permits to carry concealed weapons on campus.
Lynchburg police officers remained at the women's dorm Tuesday, according to local media.
The statement released by Liberty University News Service, shown below, omits mention of the shooting leading to a fatality:
"Liberty University confirms initial reports that there was an altercation between a Liberty University Emergency Services Officer and a male student that led to a shooting last night at a women's-only residential hall (Residential Annex II) that is under investigation by the Lynchburg Police Department. The entire campus, including Annex I & II, are open and operating as normal. Liberty University's thoughts and prayers go out to all those affected by this tragedy."
Liberty University spokesman Johnnie Moore said classes were currently going on as scheduled and that there were no safety concerns.
Liberty University was founded in 1971 as Lynchburg Baptist College, and has since become the largest evangelical Christian university in the world. The Southern Baptist-affiliated school boasts about 12,600 undergrads and 90,000 online students.